Gaslight Theater Presents Whales of August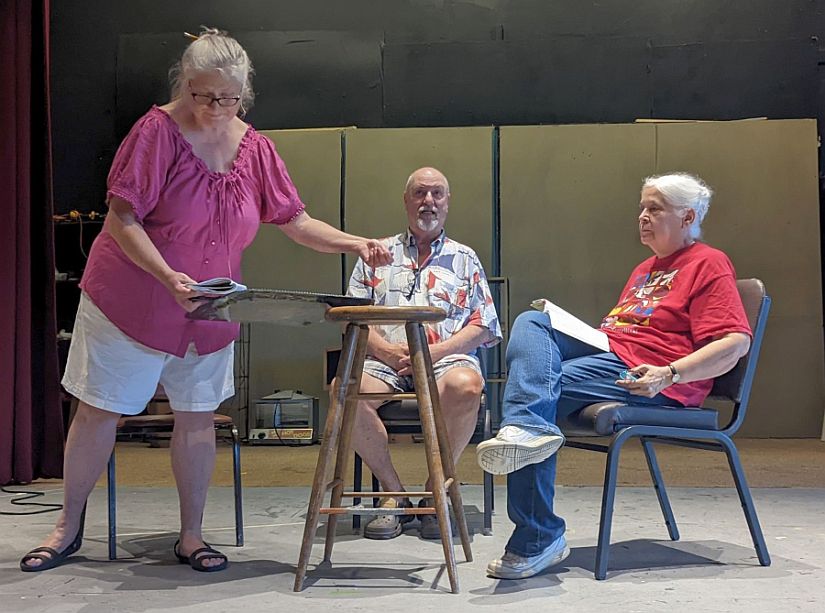 After a successful outdoor run of I Hate Shakespeare in July, Gaslight is pleased to present its first indoor production since its COVID-shortened run of John Cariani's Last Gas in March 2020. On Friday, August 26, Whales of August will open in Hallowell City Hall Auditorium, Gaslight's traditional venue.
The story is set in August 1954 in a seaside cottage on a coastal Maine island. Octogenarian Libby has become blind, irritable, and socially withdrawn. She is in the November of her life, waiting to join her late husband in the hereafter. But for Libby's caregiver, her younger and also widowed sister Sarah, it is still late summer, both in Sarah's mind and on the calendar. Eternally optimistic and romantic, Sarah believes that there are still good days to come and adventures to be had.
The play is essentially one long conversation between the two sisters on the minutiae of their lives — a conversation that is often interrupted by visits from their slightly ditsy but caring neighbor Tisha Doughty, from the island's cantankerous, cussing, door-slamming handyman Joshua Brackett, and from suave Russian expatriate Nicholas Maranov, who purports to be a dispossessed nobleman.
Written by David Barry, Whales of August debuted in its present form in New York City in 1982. The playwright subsequently adapted his script for the screen. Filmed on Cliff Island in Casco Bay and released in 1987, the movie starred Hollywood legends Bette Davis, Lillian Gish, Vincent Price, and Ann Sothern and garnered Sothern an Academy Award nomination for best supporting actress.
In Gaslight's staging of the play, Margaret Mattheson stars as Sarah, Linda Duarte as Libby, Lisa Copenhaver as Tisha, Gregor Smith as Joshua, and William Haley as Maranov. Rebecca Singer and Joseph Maranda direct.
Performances will be held August 26 — 28 and September 2 — 4. The Friday and Saturday performances will start at 7:30; the Sunday shows will be at 2:00. Tickets will cost $15 for adults and $13 seniors and students. Although free of sex and violence, the play contains mild profanity, and thus is not suitable for young children.
All performances will take place in Hallowell City Hall at 1 Winthrop Street. All audience members will be required to wear masks, whether or not they are fully vaccinated against COVID-19. To reserve tickets or get additional information, visit www.gaslighttheater.org or call 626‑3698.
<— Previous Article • Summaries • Next Article —>
©2022 by Summertime in the Belgrades. All rights reserved.