Underwater Rocks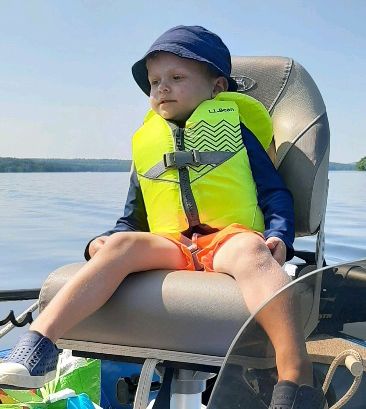 It's hard to believe how fast summer is going by. Last week, I wrote about the annual loon count and mentioned the eagle that flew up the lake just before the count began. Loons all over the lake alerted the rest of the loons to the eagle's presence and loon parents began sequestering their chicks. As a result, no chicks were spotted in Upper Long Pond during the count, when we were expecting at least three. The next day, I went out with my grandson and found three chicks that were successfully hidden by their parents while the eagle was out and about the previous day.
Early in week, I attended a 7 Lakes Alliance-sponsored mushroom walk with Greg Marley on The Mountain. Almost twenty of us learned a bit about mushroom ecology, collecting, and identification. Considering how dry it has been this summer, I was surprised how many mushrooms we found in our roughly hour-and-a-half walk. I came home with enough chanterelles for my pizza later that night.
Later in the week, we got some much-needed rain via a strong thunderstorm that took down some trees and caused power outages. The next morning, fellow 7 Lakes Alliance boardmember Mel Croft and I set out to explore some interesting, submerged rocks we had visited a few years ago in Lower Long Pond.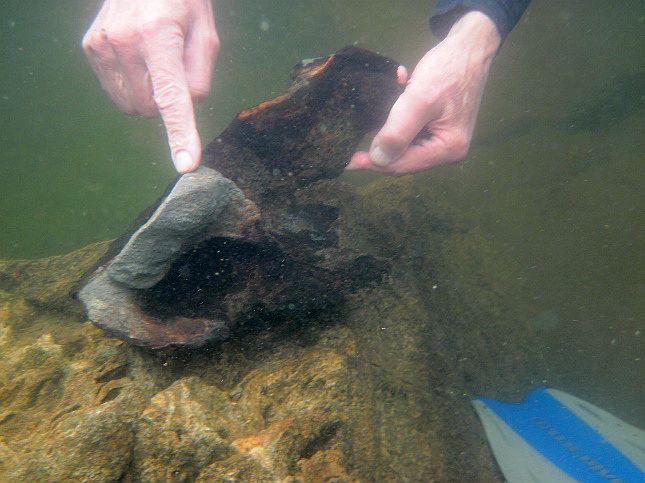 I had originally found the rocks while snorkeling during an Invasive Plant Patrol. Mel, a retired geologist, and I donned masks, snorkels, and fins and found the rocks after a short swim.
The rocks came in all kinds of shapes, and sizes, with different colored layers and mineral filled dikes in cracks. I immediately found what appeared to be a fossilized prehistoric moose antler almost three feet long.
Imagine my disappointment when Mel explained it was not a fossil at all, but rather the results of tectonic activity that helped form the landscape millions of years ago. According to Mel, about 400 million years ago, magma intruded into deeply buried rocks (shales) in the Belgrades. The hot magma "baked" the surrounding rocks (shales) forming a metamorphic rock called hornfels, a process known as contact metamorphism.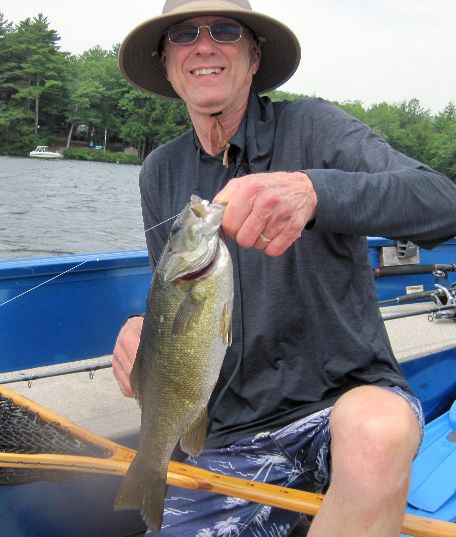 The formation of the Appalachian Mountains elevated these rocks to their present location, and millions of years of erosion have exposed them in Long Pond. During this process, the magma cooled to form the granite that makes up the Kennebec Highlands. After our underwater expedition, we trolled back to the north end of the lake and Mel caught a nice roughly three-pound smallmouth bass.
Take advantage of the rest of the summer and get out on the lakes or hike or bike in the hills. And take a kid along. Or a parent or grandparent. You will be creating memories that will last. 7-Lakes Alliance is hosting many interesting events, which are in the Community Calendar elsewhere in this paper. The Tuesday afternoon (3 p.m.) live animal talks from Chewonki are especially popular with kids. Pick up a map of the local trails from the 7 Lakes Alliance at the Maine Lakes Resource Center. Individual trail maps for most of the trails can be downloaded from their website.
<— Previous Article • Summaries • Next Issue —>
©2022 by Summertime in the Belgrades. All rights reserved.