The Detective in the Dooryard, by Timothy Cotton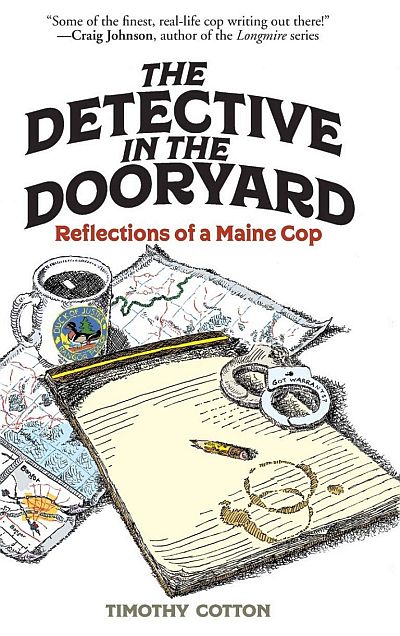 These funny, everyday reflections of a Bangor cop will keep you chuckling. What is even more amazing is that Down East Books published this first book in 2020. It sold so very well that a second one is already published and on shelves to buy.
A third is on the way in the Fall of 2022. Let me remind you, dear reader, that is three books in three years, selling quite well according to Renee at Oliver and Friends Bookshop on Main Street in Belgrade Lakes. Sounds almost like romance novelist Danielle Steel, except she sometimes publishes two in one year…and they have not been COVID years.
Cotton's clever use of interweb got me to look up this humorous use of language. Travis Mills, author of Tough As They Come, writes, "Cotton's writing captures the highs and lows our first responders face during their time in uniform, and reflects what we all love about Maine and its people: quiet thoughtfulness, dry humor, and a strong sense of community."
He does not tell about the rich and famous or astounding events that make the news. What Timothy Cotton does do very cleverly is relate everyday happenings, many you may have experienced yourself. Here is one, but maybe the $100 is much more dramatic than everyday life:
Yesterday, at an undisclosed location, I explained to one nice young lady that I had only asked for fifty dollars cash back, not one hundred and fifty dollars. She was happy I gave the money back — seemed surprised, actually…

She was embarrassed that I had to count it back to her, but I think she learned something. And I told her I had done much worse things back in the day when I ran a cash register…
How often the change is not counted out carefully in everyday transactions. How often Timothy Cotton records funny daily happenings with a smile.
I chose his first book to read because I actually liked the cover better than the blazing yellow cover on the second cop car book. So, "don't judge a book by its cover" is advice I did not follow. I grabbed the coffee mug cover with the map and handcuffs. Which one will you read?
<— Previous Article • Summaries • Next Article —>
©2022 by Summertime in the Belgrades. All rights reserved.