A House of Dreams: Celebrating Railroad Square Cinema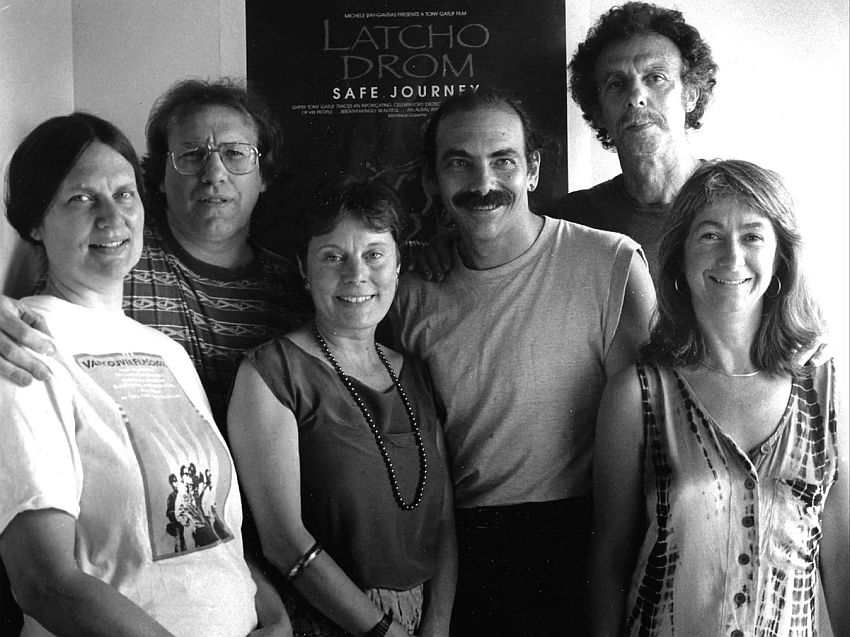 The recently concluded 25th edition of the Maine International Film Festival will be the last one where films are shown at Railroad Square Cinema. The can-do, art house cinema, which gave birth to the festival in 1998, is slated to close in December, when the Schupf Art Center, which is rapidly rising a few blocks south, at 93 Main Street, is expected to be finished. The new building will contain three screening rooms to replace those at Railroad Square.
Founded in 1978, Railroad Square Cinema was born out of a love of movies and the desire of its founders not to be limited to watching the current Hollywood releases being shown at the local cineplex. At that time, apart from the occasional old movie shown on late night television and the newer "movies of the week" shown during Prime Time after their theatrical runs had ended, the only way to see a movie was in a theater. This was before Turner Classic Movies and other cable movie channels, before Netflix and other streaming services, and even before movie rentals on VHS videotape. If you lived in Central Maine at the time and you wanted to see a foreign film or a classic American one, you were pretty much out of luck.
The idea to start their own movie theater was hatched when the five founders met a Christmas party in the mid-1970s. They didn't all know each other before then, but they soon became friends. Lea Girardin was the audiovisual librarian at Colby. Ken Eisen and Gail Chase had graduated from Colby a few years earlier. Stu Silverstein was a filmmaker in Solon, and Alan Sanborn, a film buff who liked to visit the Colby library to read their collection of film scripts.
For two years, the five searched for a suitable space, before settling on a former beer and wine store at the northern edge of downtown Waterville, with a now-gone railroad siding in its parking lot. For around $1200 each and a lot of sweat equity — they did most of the renovations themselves — they converted the space into a movie theater. For little or nothing, they acquired seats from an old theater in Augusta and also roughly two dozen, Army surplus, 16 millimeter projectors, i.e. projectors designed to show films that are 16 mm (5/8″) wide. At that time, films were widely distributed in that format — if you ever watched a movie in a classroom as a kid on a portable projector, it was probably 16 millimeter — and they could keep the projectors running by switching out parts as needed.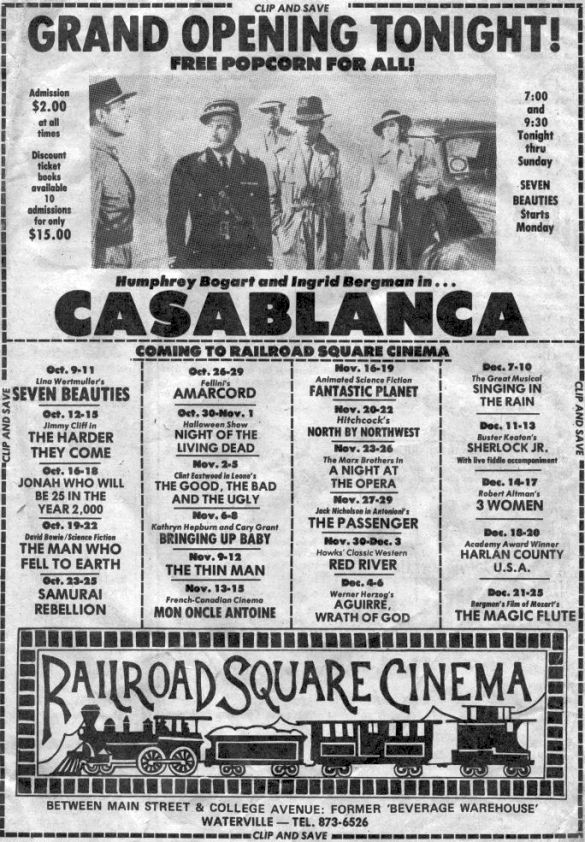 On October 5, 1978, the new, one-screen, 168-seat theater opened at 13 Railroad Square, charging $2 for adults and $1 for children. The first film was Casablanca, which, according to Ken Eisen, was chosen because "it was such a well recognized, classic Hollywood terrific film: an adventure film, a romance, a bit comic, idealistic, endlessly rewatchable, with iconic stars Humphrey Bogart and Ingrid Bergman, a continuing major feature in the repertory film scene at the time."
By 1981, it was clear that cinema was going to have to upgrade to 35 millimeter projectors. While 16 mm films continued to remain available, studios typically didn't release new movies in that format until six months after their release on 35 millimeter film. Although the partners had initially set out to show older and foreign films, audiences wanted to see new releases too, so the partners bought a new projector and expanded the projection booth to accommodate it. This expansion also made it possible to start a cafe in the lobby.
Everything went smoothly until the night October 10, 1994, when a fire, probably electrical in origin, consumed the cinema. The building itself didn't burn — it was made of cinder blocks — but everything inside was destroyed. The fire could have been the end for Railroad Square, but even as the fire department was still putting out the flames, movie patrons came to offer condolences and, more important, cash to rebuild. When the bookstore next door put out a donation jar, someone dropped in a $1000 check. Over time, the partners amassed $150,000 in donations.
A mere nine months later, Railroad Square reopened in a brand-new, purpose-built structure across the parking lot. The new building allowed the cinema to expand from one screen to two, greatly increasing the variety of programming its owners could offer and making to possible to host their very own film festival three years later. In July 1998, MIFF was born!
In 2002, Railroad Square added a third theater. Cinema 3 was always part of the plan for the new building, but initially, there wasn't enough money to outfit it as a screening room, so it was just being used for storage. Now the Fabulous Five were finally able to fully realize their vision for their new cinematic home.
In 2012, they faced a new challenge. The film industry would soon stop distributing movies on film altogether, in favor of a new digital format. To show digital movies, the partners would have to buy new projectors costing tens of thousands of dollars each. Fortunately, the Maine Film Center, which had started out as a nonprofit support group for the cinema and had organized the film festival each year, had grown to the point that it was able to buy the Railroad Square Cinema from the five partners. The sale not only enabled the cinema to buy new digital projectors, but allowed it to become a nonprofit organization, making it eligible to apply for grants.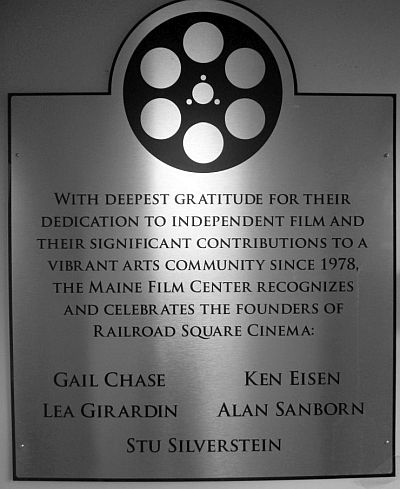 Speaking in short documentary made to commemorate the cinema's fortieth anniversary four years ago, Alan Sanborn said, "[F]or all its success, it was really a selfish enterprise on our part. We started a movie theater for our own purposes, which was to see film."
It was a wholly impractical notion; opening an art house cinema in a small town in Central Maine made little business sense. In that same documentary, Stu Silverstein asserted, "We were successful, because we were bad at business."
The funky, little cinema in the former beer and wine shop was the founders' "field of dreams." They built it, in the hope that people would come. And the people come, not just at first, but night after night, year after year, trusting the five friends to present films that were not only entertaining but also thought provoking.
Although they may not have realized it at the time, the five founders were building not just a movie theater, but also a community of film connoisseurs. Perhaps that community was always there. Maybe it just needed a place to gather. Regardless of whether the cinema created the community or the community discovered the cinema, that community is real story of Railroad Square, not the five friends who founded it, not the building, and not even the movies themselves. That community stuck with the theater through good times and bad. Without it, the founders would not have rebuilt after the fire, and the film festival never would have become an artistic and financial success.
What will the future hold? No one can say for certain. Of the founding five, only Ken Eisen and Alan Sanborn are still involved in the day-to-day operation of the cinema, and Sanborn will be retiring when the cinema closes. Through the Maine Film Center, however, a new generation has already taken charge.
Moving to a new space opens up new possibilities. Besides the three screening rooms, the Schupf Center will have a modern art gallery for the Colby College Museum of Art; exhibition space, a clay studio, and a classroom for the Ticonic Gallery + Studios; and rehearsal space for the Waterville Opera House. Having all those different art forms under one roof may lead to interdisciplinary programming yet to be imagined.
No matter what happens, it will be interesting. Keep watching, everybody. I'll see you at the movies.
<— Previous Article • Summaries • Next Article —>
©2022 by Summertime in the Belgrades. All rights reserved.