Andrew Wyeth: A Secret Life, by Richard Meryman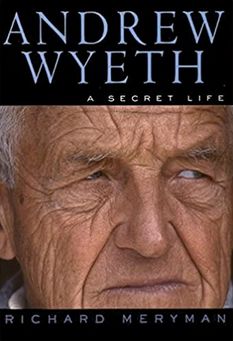 Did you ever read a book years ago and when it comes up you recall it distinctly? I read this biography of Wyeth in the 1990s sometime, and memories are vivid about its story of an artist and his family of artists, father and son. N.C. Wyeth's dark oil paintings were on covers of many classic children books, like Treasure Island. We were sorting family books at that time in our lives: what to keep and what to give away?
Our Portland friends visited us at Great Pond and we ventured together to see the Helga paintings series featured at the Farnsworth. Still do not understand the three-dimensional effect Andrew painted on Helga's golden auburn hair. I stood close to the work and wondered.
The Sunday Boston Globe today features the Colby College Art Museum special showing of Andrew Wyeth works centered on Life and Death after N.C. Wyeth's horrible sudden death in 1945. A grandson was also killed in the car as the train overtook them in Chadds Ford, Pa.
Apparently a newly discovered cache of drawings only discovered as recently as 2018 reveals Wyeth's 1946 change in painting style. "Christina's World," his iconic painting of the disabled Christina Olson crawling the hillside to home, was part of that change in his painting life. I look forward to viewing this collection at Colby College.
Maybe you would like to read the biography of Andrew Wyeth. His son Jamie is the third generation of artists in the family and I found it so interesting to see how each generation found a different mode. Their styles each unique and not a repeat of the N.C. Wyeth dark oils.
Maybe we will see each other at Colby? A map in the Sunday Boston Globe showed how close we have so many museums to visit: Bates and Bowdoin Colleges, Farnsworth, Portland Museum of Art. So much to do and not too far away.
The Colby College Museum of Art exhibition, Andrew Wyeth: Life and Death will be on display through October 16, 2022. This exhibition is the first public presentation of recently rediscovered drawings in which artist Andrew Wyeth (1917 — 2009) imagines his own funeral and connects the sketches now known as the Funeral Group to Wyeth's decades-long engagement with death as an artistic subject in painting. The museum is open Tuesday — Saturday, 10 a.m. — 5 p.m. and Sunday, noon — 5 p.m. Admission is free. Guided tours are offered each Saturday at 2 p.m.
<— Previous Article • Summaries • Next Article —>
©2022 by Summertime in the Belgrades. All rights reserved.