Newest Neighbors, Oldest Values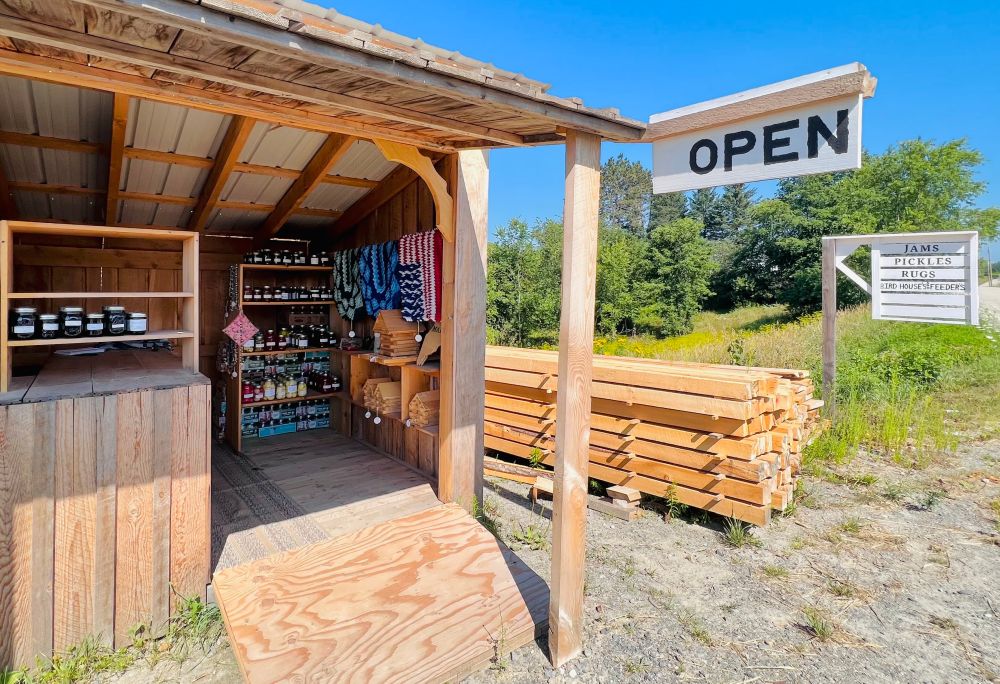 Have you had to do a double take then slow down for a horse and buggy while traveling the roads this summer? Well, you are not alone. Mercer welcomed the four Amish families in the past two years and they have established themselves as industrious members of the community. All four families hail from Ohio where land was getting too expensive and there was little room for families to expand. Chris Miller looked for land for sale in Maine and the rest is history.
I spoke with Chris Miller, Eli Yoder, and Eli Miller one day last week about their new lives in Mercer with the buzz of a log being sawn in the background where a couple of the older boys were busy preparing an order. All three men have gas-powered sawmills with logs stacked ready for cutting and precut planks are layered and drying ready for sale. You can even bring your own logs for them to custom cut to size.
Homemade jams, jellies, pickles, quilts, kayak racks, planters, picnic tables, Adirondack chairs, fresh baked pies, donuts and baking supplies are just a sample of what you will find at the Amish roadside farm stands on Elm Street in Mercer, Maine. They are all open 7 a.m. – 7 p.m., Monday – Saturday, with no Sunday sales as this is their day of rest.
Sons and daughters not only share in the work around the family farms, but also hire out to build sheds, porches, gazebos. The girls clean houses and camps, sew and alter or mend your order and do many odd jobs that need attention like weeding your garden! Traveling builders, Andrew, Eli Jr. and Andy, each son from 3 different families, recently completed a beautiful, sturdy porch on Lake View Drive in Smithfield just past the Smithfield Baptist Church. They will drive the horse and buggy in a 12-15 mile radius from Mercer to build for you. Just stop by one of the farms on Elm Street to book your job.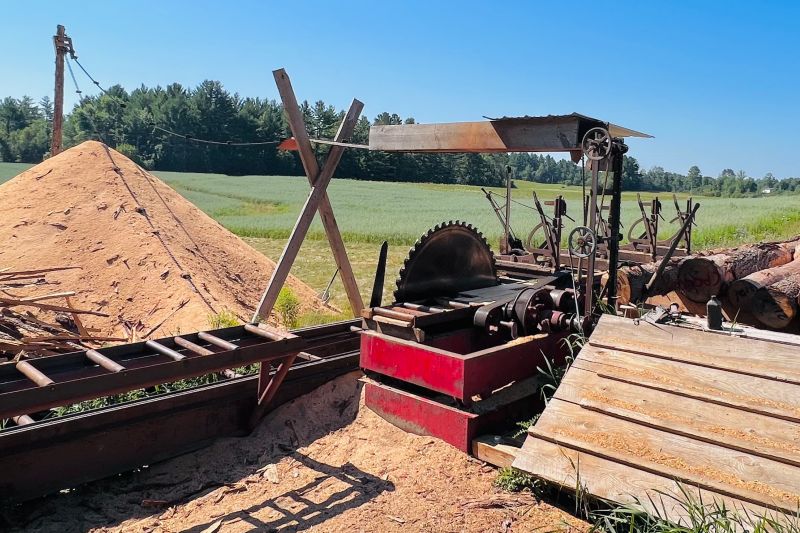 The families switch off hosting Sunday church complete with enough food for everyone to eat lunch, and that is about 50 people! Meals are prepared and cooked over wood fired stoves. The children attend school in a small, centrally located schoolhouse where most of them walk to school with their lunch buckets swinging at their sides. Laundry is done using gas-powered ringer washers outside, then the clothes are hung to dry. The pastures have grazing sheep which are raised to sell, pigs, chickens for eggs, horses for the buggies and fieldwork. There are fishing poles at the ready whenever there is time for one of their favorite family activities.
At Eli Miller's farm, there are over a dozen pairs of ice skates hanging on nails on the side of one of the outbuildings. A small bog just off the dirt road serves as an exciting place to hone newfound ice skating skills for all of the children. I caught up with Eli on his hay wagon steering his team of workhorses out to the hay field. He stopped the team, hopped down and proudly showed me the woodshop and his handmade wares. He is ready to take your order for whatever you may want built.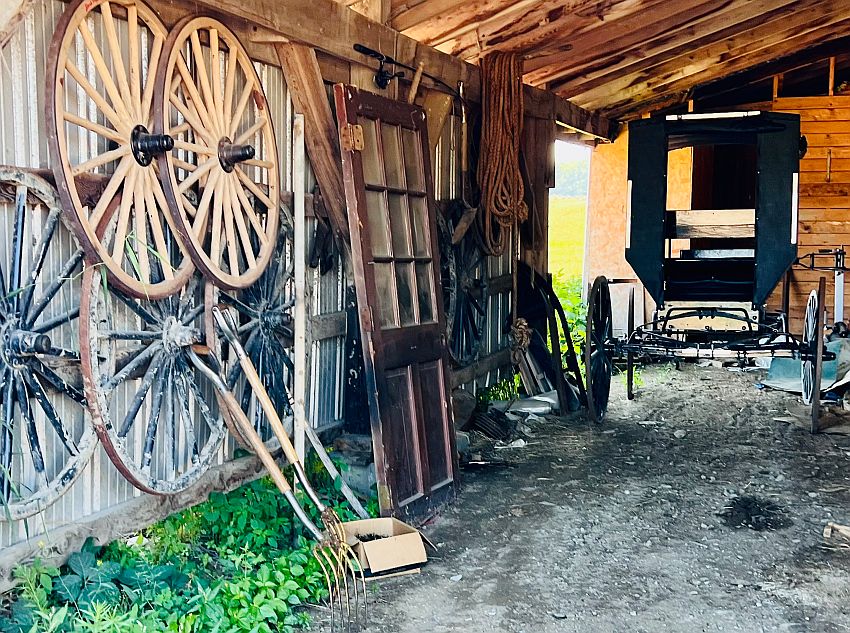 One thing the three men were in agreement about was safety on the roads. One of Eli Yoder's sons was traveling on the shoulder on Route 27 recently driving the buggy when a truck passed him and someone was passing the truck. He went as far off the road as possible to avoid a crash. He doesn't recall seeing any signs indicating sharing the road with the horse and buggy on Route 27. He added that signs in Mercer, Smithfield, New Sharon and Norridgewock raise awareness and drivers are more thoughtful.
Pay the Amish farm stands a visit on your next ride around the lakes region and tell them you read about them in the Summertime in the Belgrades! And please return your pie plate and jam jars so they can make even more!
<— Summaries • Next Article —>
©2022 by Summertime in the Belgrades. All rights reserved.