Water Over the Dam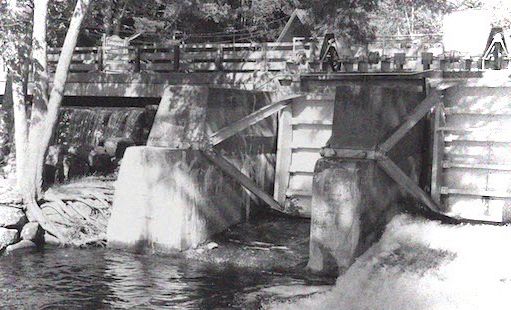 I heard an old phrase this past week, which I haven't heard since I was a teenager and as I recall, it was a very common reply from my Mom for just about everything! "That's water over the dam, honey!!!" So that got me laughing as now I am up to my ears in this dam business!!
Merriam-Webster's definition of this expression is "something that is beyond recall (happens a lot now-a-days) or reconsideration". Another version of this old expression is, "Honey, that's water under the bridge," which Merriam-Webster says "refers to events or situations that are in the past and consequently no longer to be regarded as important or as a source of concern." I tried "That's water over the dam, honey," on Sue last night, which elicited her typical, "Are you feeling OK?" in addition to that look. Oh, for the good ole' days when we could get away with these old quips!
Well, all of our pond water levels are continuing to drop due to just not having enough real rain. Precipitation for the past ten days was a very meager 0.32″ (0.64″ in the previous period) of rain with 0.45″ forecasted for the next ten days, so I guess we should be thankful for this incredible weather, but our farmers, gardeners and lake levels are unfortunately feeling the brunt.
The water level at Great Pond's Village dam has now dropped down to 0.48″, but still above full pond with the main gate obviously still closed — Good work, Craig! Long Pond's Wings Mill dam is, for the first time this season, below full pond at 1.08″ down with both gates still closed. Salmon/McGrath is, because of the mandated 1 cfs, 24/7 flow, down to 2.5″ below full. Messalonskee Lake, a.k.a. Snow Pond, is now down to 6.36″ below full. Last week we reported 5.28″, below so you get the picture. We are starting to pay the price for this beautiful Chamber of Commerce weather!
If you have a particular questions regarding our Dams and/or water levels, please email your inquiry to dickgreenan@outlook.com and we will try to answer your question either in this column or via email.
Enjoy the family, your vacation, and this incredibly beautiful weather and please stay safe!
Dick Greenan is secretary to the Belgrade Lakes Watershed Dams Committee. He submitted this report on July 13, 2022.
<— Previous Article • Summaries • Next Article —>
©2022 by Summertime in the Belgrades. All rights reserved.