Winter Harbor by Bernice Richmond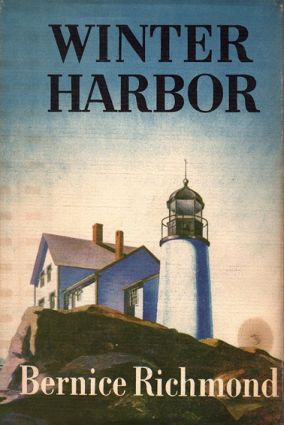 This 1943 breath of salty air was given to me in South Carolina this winter. What a relief to have several summers breezily described by Bernice as she and her husband fall head over heals in love with their lighthouse on Mark Island. Work on the island was unending, but so too was the joy of sharing their ocean views with visitors, often friends who wanted to remain on the island…
Most friends came to help keep the place going by bringing food and essentials. The daily activities are so realistically rendered that I kept wondering, what is next? Everyday on an island is adventurous. Just observing the fishing boats would be enough for me, but languishing in tide-pools was a new sport I'd like to try.
John was her cat and often Bernice's husband had obligations elsewhere, so Bernice had days with her brother helping repair and paint the light as well as other visitors. She became entranced by the friendliness of Winter Harbor neighbors, who were full of countless stories about Mark Island.
The contrast between summer days on the island and the rest of the year back in a crowded city rang true to my feelings of summer by the lake compared to winter elsewhere. We long for summer days and breezes and clarity. This author, together with her husband, find clarity on their island.
Often I am reading for different book groups. When this book was given to me by a SC friend from Maine, I knew it would be hard to just let it sit unopened. Every moment of reading novels for discussion groups, I found myself breaking away and dipping into an island day full of the unexpected.
Meals on the island tasted more delicious just because of their simplicity and homegrown from the garden ingredients. Even the author's winter leg surgery seemed healing for her to hobble more carefully on the rocks. Docking various boats around the island was always subject to sea conditions. Leaving for the railroad connection was tricky when weather can always control plans on an island.
Need a break from other reading? Dip into this island adventure. I guarantee hours of dreaming and days of fog or sun or whatever Mother Nature has in store, surrounding you all around and around. Bernice Richmond tells her summer stories well with "decorations by John O'Hara Cosgrave II." That means pen-and-ink drawings, maps of Winter Harbor islands and diagrams of the interior of the lighthouse. Also black and white photos where one is labeled, "I always wanted a lighthouse."
<— Previous Article • Summaries • Next Article —>
©2022 by Summertime in the Belgrades. All rights reserved.