Crepuscular Fishing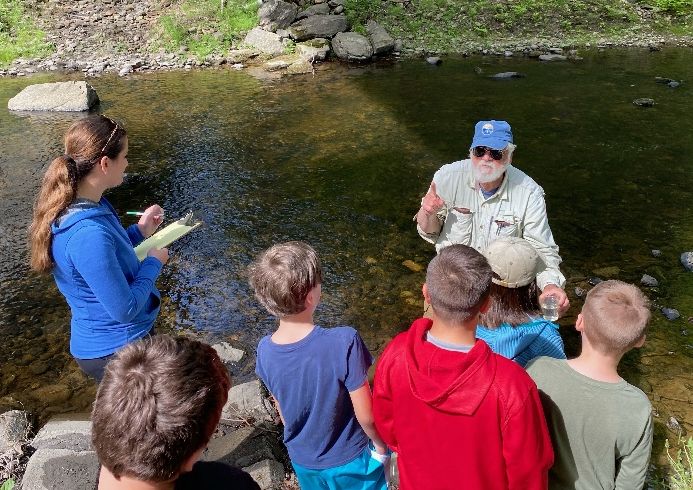 Like last year, we have had a cool and windy transition to summer, with some occasional very hot days. The fishing has continued to be productive, especially early in the morning and late in the evening.
I love fishing these crepuscular periods, when the lake is typically dead calm, and it is easy to spot fish feeding on or near the surface. Surface-feeding fish often indicate an insect hatch taking place with some fish (often trout or small bass) sucking the bugs off the surface, creating dimples. Often larger fish will be just below the smaller fish at the surface, eating the smaller fish or the nymphs (insect larvae) just below the surface waiting to emerge.
In our lakes, we also get schools of landlocked alewives disturbing the surface while spawning in relatively shallow (less than about 25 feet) coves. Often these schools are being chased by larger fish and you will see occasional large splashes as a bass or brown trout picks one off. For this situation I like to use one of my flyrods rigged with a White Zonker, a streamer that nicely mimics the landlocked alewives in the lake. It's usually easy to catch several nice bass or white perch under these conditions. A spinning rod (I prefer an ultralight) rigged with almost anything silver, such as a small jerk bait (such as a Rapala), Mepps spinner, or Weeping Willow spoon is also quite effective.
By the time this article is published, the water temperatures will be over 70°F in the lakes and the bass will be in the shallows, either sitting on their own beds or chasing the sunfish on theirs. It is a fun time for fly fishermen to catch a lot of fish on streamer flies or surface poppers, especially at dawn or dusk. Spinning gear also works well with surface lures, especially at dusk.
It can be a great time to teach a youngster how to fish because the action is fast. A worm-baited hook and bobber off the dock is especially effective in getting kids "hooked on fishing." As I was passing my new neighbor Matt Lawler's dock, recently I spotted his sons, Chase and Bennett catching fish after fish and excitedly showing their catch to their dad. It was hard to tell who was having more fun: Dad or the kids.
Every spring I act as a "Fish Friends" mentor for the Atlantic Salmon Federation. I work with several schools (and the 7-Lakes Alliance) to help students raise Atlantic Salmon fry in refrigerated tanks in the classroom from eggs we receive from the National Hatchery at Green Lake in Ellsworth. The students study salmon life cycles and migrations and the fish are eventually stocked into the Bond Brook in Augusta to help restore this Federally listed endangered species.
Recently Jon Milne and I helped teacher Amanda Caldarella, another teacher from Belgrade Central School, and 30 third graders stock 388 salmon fry into the brook. This is a great program and gets young people (and their parents) excited about these critically important fish. Maine is the only U.S. State with reproducing native Atlantic salmon and is trying to restore these once thriving fisheries. Hopefully we will see some of those fish back in the brook in about 4 years.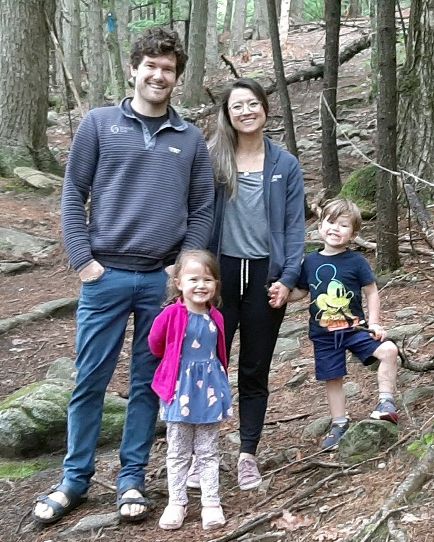 June 4 was National Trails Day. I spent the morning at French Mountain with 7-LA Land Steward, Jonathan Milne and Scott Guay of the Stewardship Committee. We were installing some water bars to make the trail more resistant to erosion events. It was rewarding to see how many people were out hiking the trail that day, almost all of whom thanked our group profusely for our work on maintaining such nice trails for family hiking. Isaac and Mari Axtell of Waterville were hiking with their son Frankie and daughter Luna. Rome residents Trent and Sandy Shute, who live on Great Pond, were hiking with their daughter Sarah and grandchildren Bodhie and Sawyer.
The 7 Lakes Alliance is once again holding in-person events that may be of interest. Upcoming programs include multiple family hikes (including June 26 at Mt Phillip), a night sky tour (June 28), and a presentation by Chewonki (July 5th) on "Mammals of Maine from Mice to Moose." Check the 7LA website site for details. Keep an eye on the sign in front of the building (at 137 Main Street in Belgrade Lakes Village), as events are being added all the time. Get on their email notification list for updates.
I encourage everyone to take advantage of the wealth of recreational opportunities this area offers. Do like they used to in "the good old days" and take a kid fishing, or on a hike, or paddling in a canoe. It's how memories are made. Or take a parent, so they can become a kid again.
<— Previous Article • Summaries • Next Issue —>
©2022 by Summertime in the Belgrades. All rights reserved.