Maine Memories
by Martha F. Barkley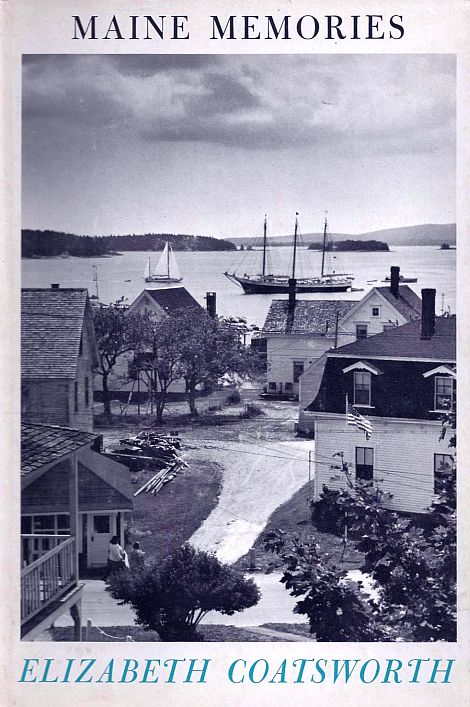 I love finding library books that are third or fourth publications from years gone by: one good test for a good read. Maine Memories by Elizabeth Coatsworth is a 1944 book that was republished in 1947 and my library copy in 1968. Most of those years I remember well, do you?
"Our garden was plowed each year by oxen," was not familiar to me at all. Maybe a few of you remember this? "Now the house has central heating and electricity." Maybe your home is year round, but our camp is only three season and that is stretching the electric heaters…
A wonderfully rendered clear map is at the beginning of the first chapter "Day at Chimney Farm." An easy day trip from Belgrade to go to the coastal Damariscotta Lake area.
Once we left our rental at Cobbossee Lake to visit friends on an island in that lake. We borrowed a farmer's rowboat to cross the narrow lake to their island summer home. No cell phones then or even a land line phone on their primitive island. The map in this book shows Chimney Farm much further north than we ventured.
"Our pond is prettily diversified by islands, coves, clean shores of stone and pine, and beguiling stretches of sheltered waters where the water lilies float…" Sounds like Belgrades Lakes, even after our 2021 microburst storm, the water lilies are blooming.
Glimpses of bird sightings and migrations are related by Coatsworth in her agile way. Passenger pigeons that filled the sky before their extinction, mourning doves, crows so dense the fields looked black, duck and Canada geese, snow geese migrations viewed in awe: "That glimpse was as near as we ever come to seeing North America which Audubon knew, and it was near enough for its memory to remain with us for the rest of our lives."
A young girl scalped survives to live until old age. Yes, read about that history. November sitings of fox and porcupine and disappearing pears picked for humans but swiped by what animal? "So I have gathered together these stories which were all told to me by neighbors". Thank you, Elizabeth, and your neighbors for Maine Memories.
John Gould of the New York Times and Christian Science Monitor wrote, "Elizabeth Coatsworth…has deep feeling for Maine and her people". So does John Gould.
Maine Lingo by Gould is on my SC bookshelf. Many titles reflect his humor: look for them at our Belgrade Public Library. Many "wicked good" books to check out and leisurely enjoy by the lake.
<— Previous Article • Summaries • Next Article —>
©2021 by Summertime in the Belgrades. All rights reserved.