The Bravest Mouse
by Rod Johnson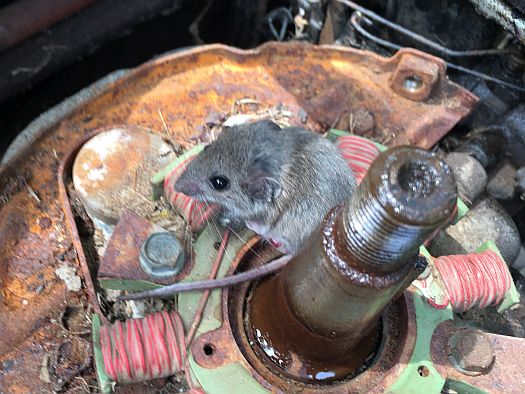 For those of us who are fortunate enough to have a seasonal camp, there's one thing we are apt to have in common. When opening up in the spring, there are often winter visitors hiding here and there. Perhaps in the kitchen silverware draw we find a family of mice. Signs of them are spread around elsewhere, and in some cases, it appears there has been a large party that went on during the course of the winter! One never knows what will appear and where it might show up.
Most recently in the old Woodland Lodge, we came home to find a very deceased mother red squirrel lying on the dining room floor. In addition, we noticed a fairly pungent odor coming from the tool room. After a quick investigation while holding our noses, a nail box appeared to have bunches of pink insulation overflowing its sides. Unfortunately, the newborn reds had no mother to tend them, and they too had met their Waterloo.
I'm sure that many of you have your own stories about critters that have invaded over the years. Everything from bats, squirrels (red and gray), chipmunks and even an occasional porcupine (hedgehog) will find a hole in the woodshed large enough to get in and sleep for the winter.
Usually the damage is minimal, just a mess to clean up. My neighbors are currently battling with some reds that are reluctant to move out of the walls. Much effort is going into plugging of possible holes with steel wool and screening. Their dog is going nuts nightly as the little critters race around and make noise that only he can hear.
Very recently, after the microburst did so much damage in the Belgrade Lakes region, I decided to resurrect our old wood splitter that Billy P. and I built back during the oil embargo of '72 and '73. There is so much hemlock around now just lying in the woods, we might as well work up a cord or two for fireplace wood.
After trying the usual gasoline engine stuff, like fresh gas, new spark plug, etc., it was clear that something else was definitely wrong with the 10 horsepower Briggs and Stratton. As my neighbor Bill Bates and I picked the motor apart, there were plentiful signs of the dreaded mice living in the motor. Before long we both jumped, as a small mouse came out from under the flywheel! We laughed a bit and suddenly a second one appeared then ran off.
After four mice came out, we realized that the flywheel had to be removed to see what damage had been done to the ignition parts that lie in underneath. After several major hits onto the crankshaft with a 3 pound hammer, with levers prying at the same time, the flywheel popped loose.
Lo and behold, after lifting off the 10-pound iron flywheel, our eyes focused on a lonely tiny mouse looking totally stunned by the ordeal he had lived through. A small drop of blood was evident on his leg, but he eyed us with defiance, as though he knew we would do him in. Bill tickled him lightly with a screwdriver and he wobbled off the engine and retreated to his next home. Our wives both pointed to the other one's camp, as though directing the mouse away from their own.
Rod Johnson was born and raised in the Belgrade Lakes in the 1950s and '60s.
<— Previous Article • Summaries • Next Article —>
©2021 by Summertime in the Belgrades. All rights reserved.