Maine Quilts
by Martha F. Barkley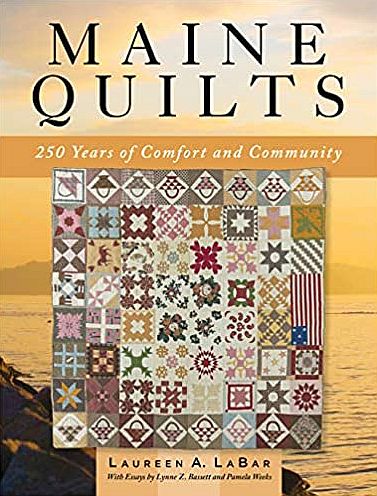 Maine Quilts: 250 Years of Comfort and Community was written by Laureen A. LaBar. Essays within this lovely, colorful collection of quilts are by Lynne Z. Bassett and Pamela Weeks.
It was quite a find for me to purchase this book on Main Street in Waterville because both Harriet Beecher Stowe and Martha Ballard are referenced in the index. Who knew that sunbonnets were sometimes quilted? I did not, but Stowe mentions these quilted hats in her work of many books beyond Uncle Tom's Cabin.
Martha Ballard of Hallowell noted quilting several times in her diary, generally in the fall, after the garden work was largely done for the year. In the year or two before their weddings, her daughters made several quilts, sometimes inviting friends to help…Martha Ballard called some "bed quilts," but others just "quilts."
This large volume full of fabulous color and black and white photos, coffee-table size, 242 pages, was published by Down East Books because the 2020 pandemic cancelled a very special quilt show: "The Maine State Museum has, at this writing, over 180 Maine quilts, a collection that is still growing…History curator Lauren LaBar has long studied Maine quilts. She conceived and organized this exhibition, the first major exhibit of Maine quilts ever produced."
Local Mount Vernon quilter Nanna Bradley Whittier is within these shiny pages for her "stenciled spread." Isn't that something! South Solon quilter from "the Paul Family embroidered a wool quilt" pictured in this special collection. Both of these works of art were discovered during recent estate sales in bottom drawers of old furniture. What artists we have among our families.
I attended a wonderful quilt show not too long ago (before pandemic shut downs) at the Augusta Civic Center. It was especially good to consult an expert there about my family's Sunbonnet Sue created by grandma around 90 plus years ago. She managed to make many quilts with help from friends in the front parlor on grandpa's constructed wooden frame.
Uncle Bob drew the quilt designs in pencil. When grandma saw some stitching not up to her standards, she would invite that particular friend to the kitchen to help with refreshments. Stitch perfection for grandma. I inquired about my Sunbonnet Sue embroidery band on each bonnet.
My mom learned her stitches and practiced a different one on each bonnet. She was only twelve years old and the colorful stitchery is beautiful to this day. The expert in Augusta told me that this was an original idea for Sunbonnet Sue. I came away loving this quilt even more since using it on my childhood bed to placing it carefully at the foot of our double queen-size bed to this day. Sometimes I hang it on our quilt rack to give the fabric and fine stitching a rest.
Grandma and her friends were able to make quilts for everyone in our family, including every grandchild. My favorites went to my nephew, Bow Tie design, and my sister, Texas Star. Canton, Ohio quilts in our family are precious like the Maine quilters creations collected in this very special quilt book.
Go to the chapter which may interest you and your family:
Tradition and Colonial Ties
A Time of Revolution
Antebellum Album Quilts
Community and Union in the Civil War
Cottons Galore
That's Just Crazy
The Twentieth Century: Community and Change
Maine Quilts Today
I must admit that I am personally fascinated by the new machine-stitched quilts with photo like images of almost anything. The new technologies offer a new kind of quilt art. "Twenty-first-century quilters in Maine are creating works that quilters before them could not have dreamed of…As they have done for 250 years in Maine, quilts continue to offer comfort and community."
The Angel Oak quilt was such an accurate photo-type reproduction at the Cobblestone presentation in Charleston, S.C. several years ago, that I had to return to the show the next day in Mount Pleasant and take photos. Embroidery threads on the ancient branches provided dark shadows.
What a lovely depiction of an old-growth tree. Better yet, on most quilts, look at the back design of swirls and small stitches, all for beauty and comforting warmth.
<— Previous Article • Summaries • Next Article —>
©2021 by Summertime in the Belgrades. All rights reserved.