Giant Trolls Invade Boothbay
by Gregor Smith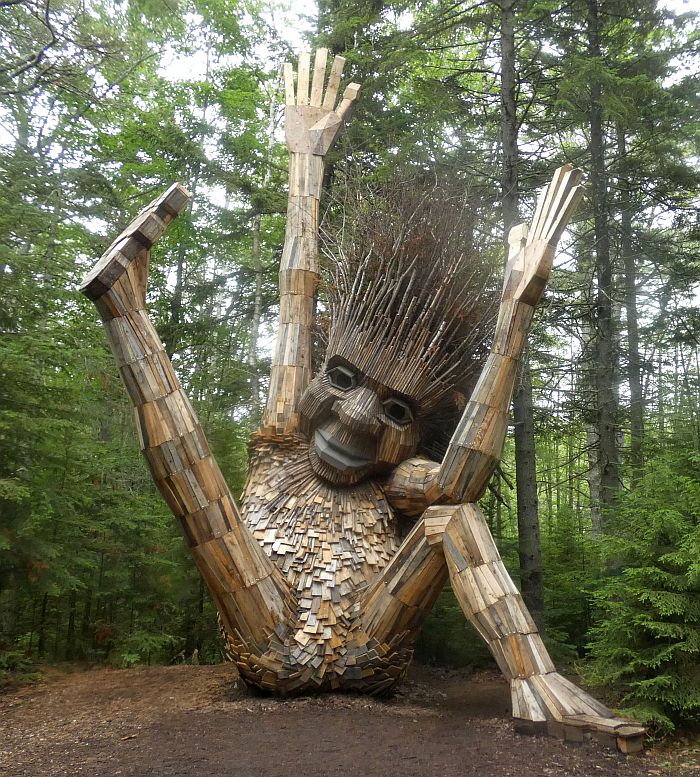 Are you looking for a nice day trip? Why not take a drive down scenic Maine roads to see "Guardians of the Seeds," an exhibit of five giant trolls that were installed at the Coastal Maine Botanical Gardens in Boothbay this past spring.
Made out of recycled wood, the trolls are the creations of Danish artist Thomas Dambo, who has created dozens of giant, wooden trolls all over the world, including in Florida, Colorado, South Korea, China, Denmark, Puerto Rico, and Belgium.
Dambo and his associates built the heads, hands, and feet in his studio in Denmark and had them shipped them to Maine. On site, he, his ten-person crew, and over 150 local volunteers spent two months assembling the trolls and adding finishing touches using local materials. For example, for one of the trolls, he used the roots of fallen trees at the Gardens to make a beard, and for two others, he made fur from the bark of oak trees that had been milled into lumber in Maine sawmills.
The first troll you'll see, Roskva, is 25 – 30′ tall. He is the only one of the five who stands, but the others are similarly sized, in various postures of repose. Each troll has clue to guide visitors to a cache of "secret seeds" hidden in a grove deep in the Gardens' woods.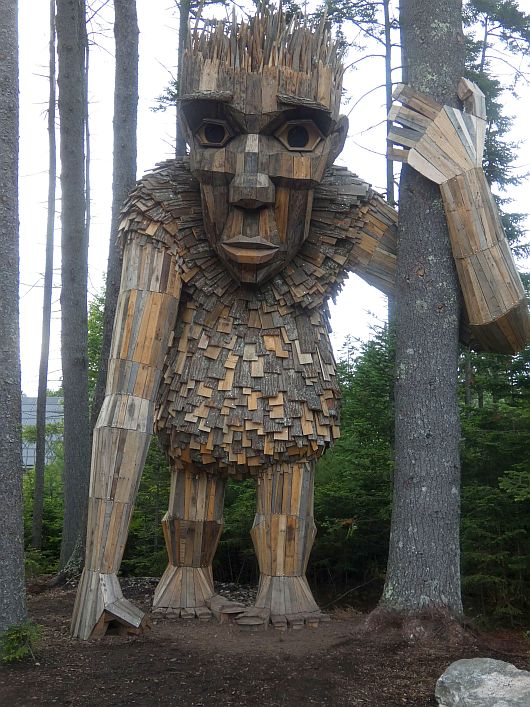 If you're an able-bodied adult and you don't take too many wrong turns on the labyrinth of trails, you can see all the trolls in one hour. Allow a second hour to find the "secret seeds" and return to the visitors center. (The time estimates on the Gardens' website are quite a bit longer.)
But why rush? There are many treasures, natural and man-made, to behold along the Gardens' sylvan paths. You can enjoy the experience more, if you follow Pete Kallin's advice and take a kid along, which will force you to slow down anyway.
If you're not up to all that walking, you can see Roskva without leaving the central gardens, and the second troll, Lilja, is not far away. Plus, there's lots to see in the central gardens themselves. They include a butterfly and moth house, a curved wooden arbor covered with climbing ornamental plants, a dahlia garden with more than eighty varieties in almost every color but blue, a "Garden of the Five Senses," and the Alfond Children's Garden, which has plantings, small buildings, and play areas inspired by popular Maine children's books. The central gardens have wide, smooth paths on gentle terrain and have plenty of places to sit. One could easily spend an afternoon exploring just that part of the property.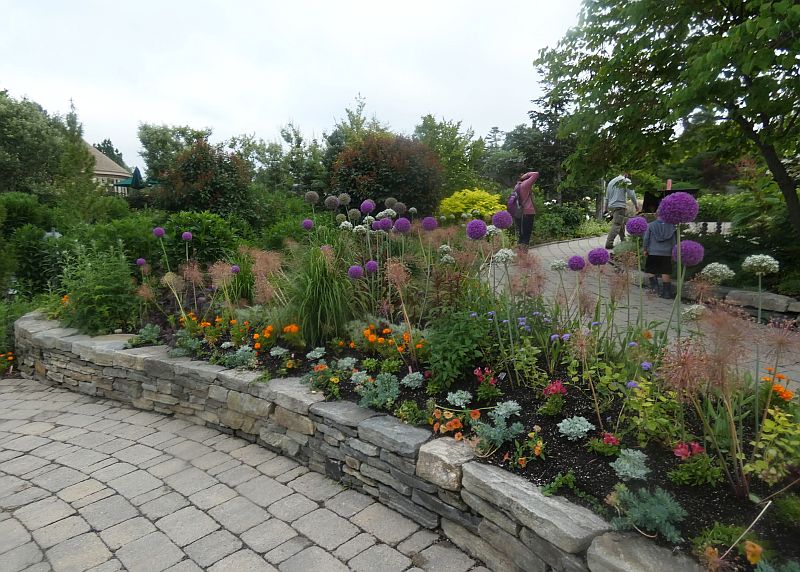 During the summer, the gardens are open daily, 9:00 – 5:00. Admission times are staggered and you will need to reserve tickets in advance. Admission is $22 for most adults, $18 for veterans and those aged 65 and older, and free for active-duty service-members and anyone eligible for SNAP/EBT, WIC, Medicaid, or MaineCare.
The cost is $10 for children 3 – 17 and free for infants. Thanks to L.L.Bean, a major sponsor of the trolls exhibit, all children can enter for free on Wednesdays this July and August. On those days, reservations for children are not required, just for the adults who accompany them. There is also a family rate of $55 for two adults and two children.
In light traffic, the journey from Belgrade to Boothbay takes an hour and a quarter. Since coastal traffic tie-ups can occur in summer, allow an extra 15 minutes or so. To reserve tickets or get additional information about the Central Maine Botanical Gardens and all their exhibits, visit their website or call 633-8000.
<— Previous Article • Summaries • Next Article —>
©2021 by Summertime in the Belgrades. All rights reserved.