Water Quality Monitoring Has Its Rewards
by Pete Kallin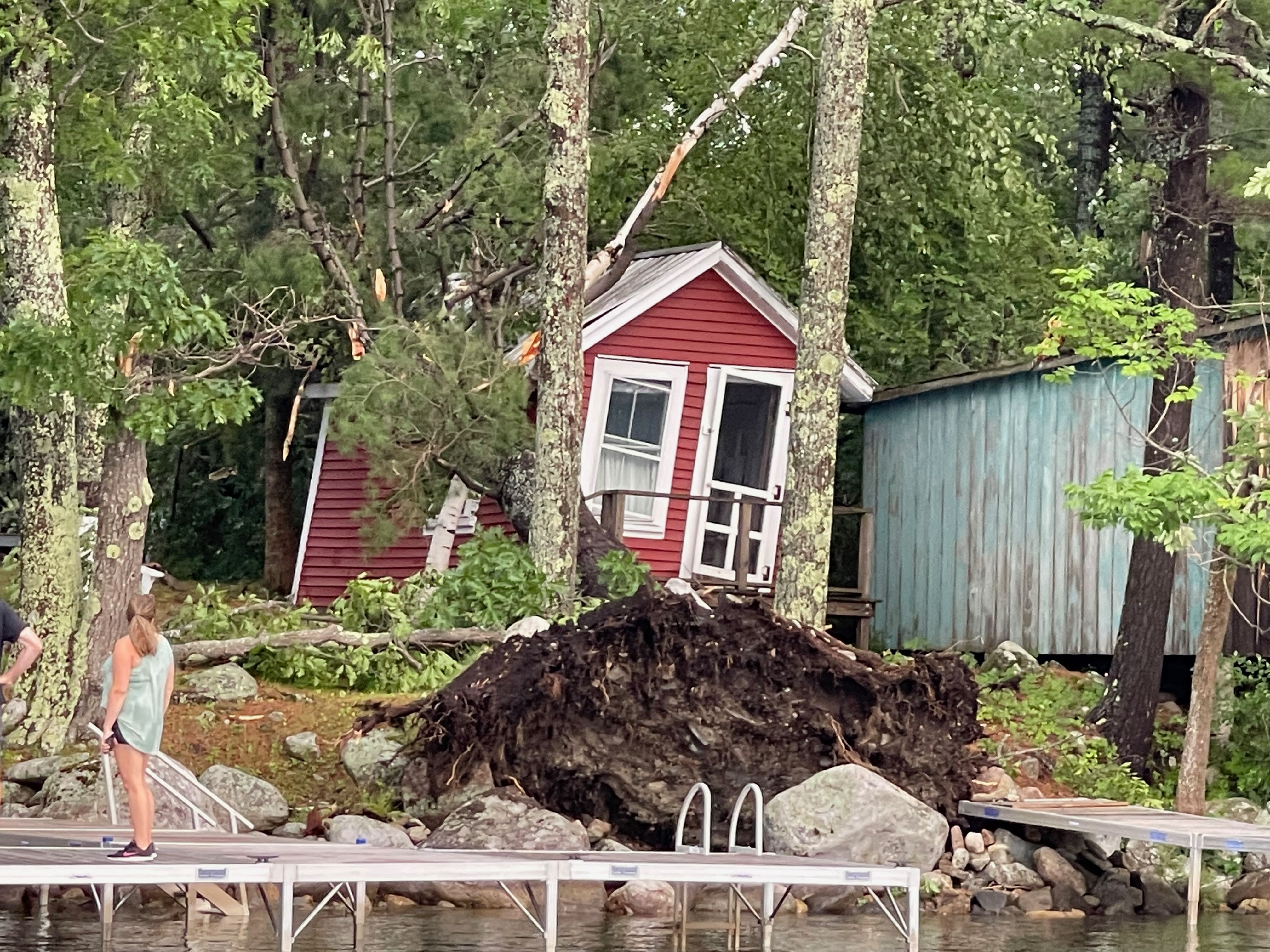 Last week, Mother Nature reminded us all how much power she can generate sometimes and how quickly she can change things up without warning. After a couple of extremely hot days early in the week, a violent, midweek thunderstorm spawned a microburst with winds in excess of 90 mph that was pretty much centered on Belgrade Lakes Village. The storm caused extensive damage, taking down many large trees that landed on houses, power lines, and a few vehicles, causing at least one serious injury. (Editor's Note: Sadly, the injured party later died. See note on "When The Storm Came.")
These intense weather events can also affect water quality in our lakes, rivers, and streams. Significant precipitation events usually result in large erosion events that can add significant sediment loads when Mother Nature uses her pressure washer instead of her normal gentle rain that infiltrates slowly while removing contaminants. Typically, the "first flush" is especially contaminated as it often contains a lot of dust, grease, oils, etc., which is washed off impermeable surfaces such as roofs or pavements. High winds stir up the lake and can change both temperature stratification and currents, as well as causing large waves that cause additional shoreline erosion. Ongoing water quality monitoring programs coordinated by 7-Lakes Alliance and Lake Stewards of Maine, formerly Maine Volunteer Lake Monitoring Program (VLMP), are in place to help document changes to our water quality and better understand how to protect our water quality.
I am both an invasive plant and water quality monitoring volunteer for these programs. While there is a certain amount of altruism involved, there is also a great deal of self-interest and opportunities for other potential rewards. When it was 95°F and humid early in the week, it was a pleasure to don my snorkeling gear and spend several hours doing my Adopt-a-Shoreline patrols in the comfortable 75°F water. Not only was I protecting Long Pond from invasive aquatic plants, but I was also getting an in-depth look at all the weed beds in my cove and finding out which ones had fish, turtles, and other aquatic life associated with them. The golf balls, empty beer cans (worth a nickel apiece!), and lost fishing lures I collected were an added bonus.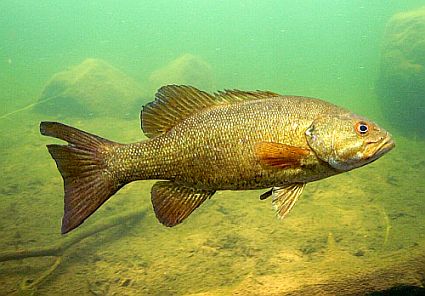 While doing these patrols, it is especially fun to turn over a rock or some bottom debris and capture a crayfish — often they come with the empty beer cans — to carry along for a bit until I spot a decently sized smallmouth bass. As the bass and I stare at each other, I slowly extend my hand with the crayfish and release it. Almost always, the crayfish swims away from me and is immediately attacked and swallowed by the bass. I am always amazed by the speed and accuracy of the bass in nailing the crawdad. I then make a mental note to come back later in my boat with a flyrod and a fly that is a crayfish imitation.
Lake Stewards of Maine (LSM), is statewide lakes nonprofit is that trains, certifies, and provides technical support to hundreds of volunteers who monitor a wide range of indicators of water quality, assess watershed health and function, and screen lakes for invasive aquatic plants and animals. Formed in 1971, Maine's VLMP is the longest-standing state-wide citizen lake monitoring program in the U.S., as well as one of the largest, with more than 1,200 active volunteers monitoring more than 500 lakes statewide.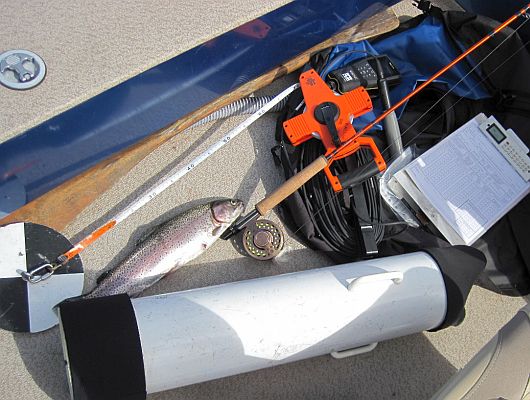 On behalf of the Belgrade Lakes Association Water Quality Committee, I collect dissolved oxygen and temperature profiles every two weeks at Water Quality Test Sites (marked by an orange and white buoy) in the deepest parts of both Upper and Lower Long Pond. After review by LSM these data are entered into the Lakes of Maine database. That information not only helps monitor lake conditions and provides independent quality assurance for data gathered by Colby College and 7-LA, but also gives me insight into where the fish (especially salmon and trout) will be hanging out. (Hint: it's the depth at which temperatures are 55° – 65°F and oxygen levels greater than 4 mg/L. This depth changes throughout the year and the fish will move until they find it. If they can't find it, they will not survive in the lake.)
I was out taking profiles the day after the storm, and as I moved between test sites, I spotted a school of alewives at the right depth for trout. I happened to have my flyrod rigged with a sinking tip line and a fly that resembled an alewife (White Zonker). I cast out and let the fly sink to the appropriate depth and brought it in twitching it slowly. I was quickly rewarded with nice 45 cm (about 18") rainbow trout. A highlight this week was the appearance of at least three loon chicks on Long Pond. The new generation is beginning to appear at all the lakes in the area and it is a special time to watch the parents nourish their young and teach them to survive on their own. Bring a pair of binoculars so you don't get too close. I will be talking more about loons in a couple of weeks after the annual loon count on July 17.
This area offers some great outdoor recreation, whether you like to hike, bike, birdwatch, fish, sail, or paddle a canoe or kayak. Pick up a map of the local trails at Day's Store or from the 7-LA at the Maine Lakes Resource Center. You can also download maps for individual trails from the Trail System page on the 7-Lakes website. Also, please check the 7-LA webpage for details on upcoming interesting events scheduled this summer. And make sure you take a kid along on your next outdoor adventure.
<— Previous Article • Summaries • Next Issue —>
©2021 by Summertime in the Belgrades. All rights reserved.