Summer Is Flying By
by Pete Kallin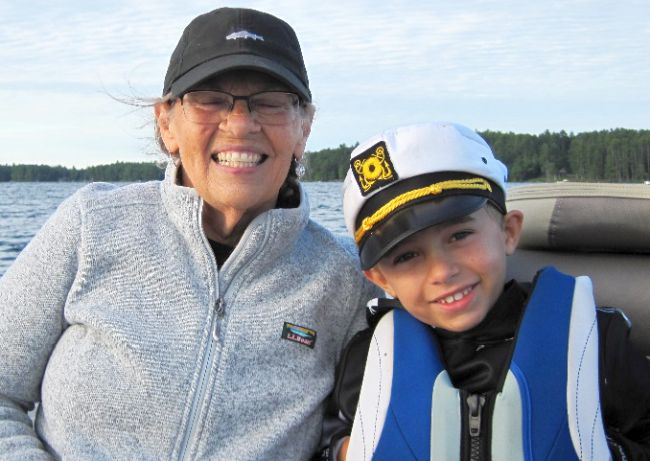 The summer is flying by. It's hard to believe this is the penultimate edition of Summertime!
The weather has continued to be variable — some rainy days with cool nights interspersed with a few hot and humid days, but occasionally really nice for hiking in the shady woods.
With more of our population vaccinated against COVID, many of last year's restrictions have been relaxed, and we are seeing more of our traditional summer visitors. At the same time, we seem to have more visitors from throughout the State of Maine; many exploring our area instead of traveling out of state as they may have in the past.
There continues to be an increase in family gatherings with an emphasis on outdoor activities. It is heartening to run into so many families out enjoying the local trails. While people have changed their schedules, Mother Nature continues to move forward with hers and this summer is moving forward just as rapidly as it always does.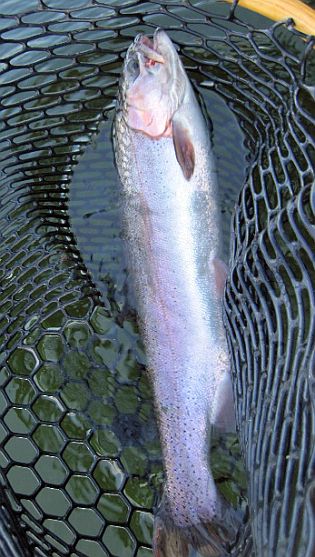 Recently, my neighbors, Joel and Kathi King, returned from North Carolina with their 8-year-old grandson, Miles, for a week-long visit. Miles is an avid fisherman and Grandma Kathi asked me if I could take him out on Long Pond for a bit. The next morning, Kathi and Miles met me at the dock a bit before 7 a.m. and we headed down the lake toward a spot where the bass had been pretty actively feeding all week.
The first thing I noticed was that the cool night (mid-50s °F) had cooled the surface water from about 75°F down to 70°F overnight. I spotted loons feeding in an area and we slowed to trolling speed. I set up two trolling rods and began trolling with our lures about 25 feet down, right around the base of the thermocline.
Before too long, we had a nice strike on the rod next to Miles. I grabbed the rod out of the holder and handed it to Miles to reel in, assuming we had a nice smallie on. The fish put up a nice battle but Miles was equal to the task, with just a bit of help from Grandma Kathi. As I got ready to net the fish, it jumped near the boat and I realized he was battling a nice rainbow trout. We soon landed a nice, fat, 19-inch 'bow, which I carefully unhooked and took its picture in the net before releasing it.
We continued trolling and caught several smallmouth bass and a nice yellow perch. I also ended up catching a nice 19-inch rainbow trout that we decided to keep. When I cleaned and fileted the trout, I gave one filet to the Kings and kept one for dinner.
The increased precipitation has made this a banner year for mushroom foragers and black trumpet mushrooms are in all the usual spots and then some! Black trumpets are some of my favorite mushrooms and are extremely tasty with scrambled eggs. They are also outstanding sauteed lightly with butter and a bit of onions and then broiled on top of fresh-caught rainbow trout filets.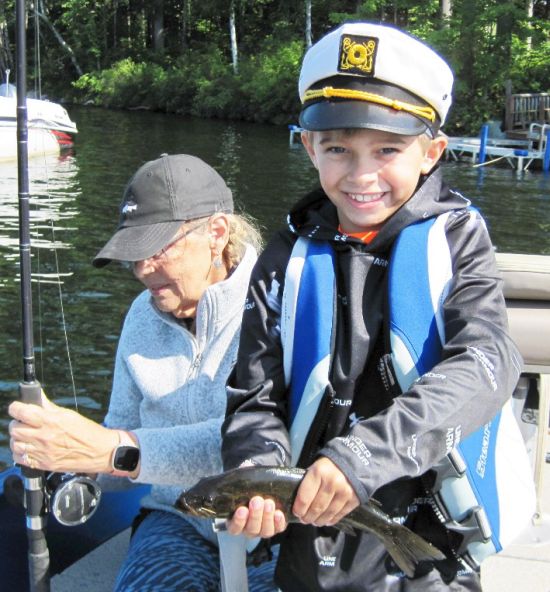 As I mentioned, Mother Nature is sticking to her schedule, pandemic or no pandemic. As the water warms, the coldwater fish are moving deeper. The larger pike and bass continue to forage on alewives approximately 25 feet down, while the smaller fish remain in the shallows feeding on crayfish and insects while trying to avoid becoming pike or loon food. Hopefully there will be enough time before ice-in for the new loon chick(s) to learn to fly. Some of the swamp red maples along the shore are already beginning to turn red.
Take advantage of the rest of the summer and get out on the lakes or hike or bike in the hills. And take a kid along. You will be creating memories that will last. Check out the events at the 7-LA website and the sign in front of the Maine Lakes Resource Center. Events are being presented as conditions allow and the schedule is fluid. Sign up for the "Night Sky Tour" on August 31. Pick up a map of the local trails at Day's Store or at the MLRC. You can also download maps for individual trails from the Trail System page on the 7-Lakes website.
<— Previous Article • Summaries • Next Issue —>
©2021 by Summertime in the Belgrades. All rights reserved.