Mill Town
by Martha F. Barkley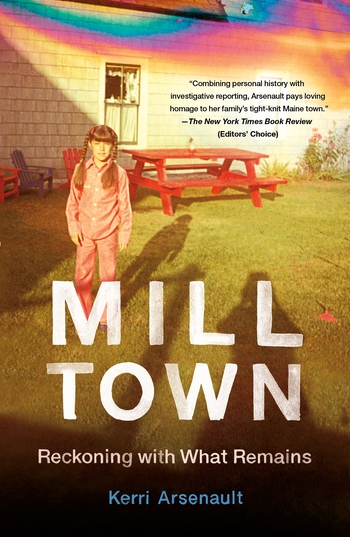 Mill Town: Reckoning with What Remains is a mixed bag of the good, the bad, and the secretive ugly in the author's life story and our Maine towns of Rumford and Mexico on the Androscoggin River. Kerri Arsenault is fourth generation Acadian immigrant and thrived in her community and returns to her Mom and friends from her Connecticut home. She still feels the community spirit of warmth and friendship in spite of the mill devastation.
Channeling Thomas Wolfe, *You can't go home again" is a refrain repeated several times within this non-fiction book of environmental science and author memoir. Also, I wish there were an index to look up the half a dozen or more times that Silent Spring by Rachel Carson was quoted. Fewer birds now, water not as clean, dioxin air pollution and toxins leaching downstream. History repeating itself, I wonder.
The talented author from Maine makes history seem like yesterday. Didn't Carson warn us in 1963 and the federal EPA responded by preventing the environmental DDT poisons from diluting our waters and soils and air? Not really.
Arsenault delves into Poland Springs bottled water and the Nestle fiasco, just one of many hidden environmental issues in Maine covered in this important history. The Maine Environmental Protection Agency has mountains of files just about Cancer Valley where the Rumford Paper Mill continues paying wages and reaping its daily paper production.
She gathers people and information about Nestle and then the group asks her to leave: I admire the author's guts in revealing this social media kind of occurrence. Kind of like Apple firing Steve Jobs as Walter Isaacson so eloquently explains in the biography written while Jobs is dying. Apple, of course, rehired its creator before his demise…
Arsenault researched her family background back to villages in France near Chartres. My husband Frank and I have gazed upon the great gothic cathedral there where the bejeweled stained glass windows dazzle everyone's eye. The author found a village nearby where there were many Arsenault ancestors buried in Catholic cemeteries.
Arsenault's family settled in Rogersville, New Brunswick in Canada. Later "[t]hey were part of l'emigration en chain (chain migration); one family member would depart, settle in the US, and send for other family members…" Sound familiar, like our present day US/Mexico border immigrants?
Good paying jobs at the paper mill in Rumford brought many from Canada to Maine. Her great grandfather was cook for lumberjacks in the Maine woods. The natural abundance of trees and the 176-foot Rumford Falls provided an outsider great investment potential. Hugh J. Chisholm and his partner William Augustus Russell "combined seventeen pulp and paper companies, including the Rumford mill, to establish International Paper, then [1898] and today the biggest paper company in the world."
I live in North Charleston, SC where we occasionally smell the weekend process of the International Paper Mill on the Cooper River. Rumford had the stronger "rotten egg" or even "pig-pen" odor as Kerri grew up.
Just her revelation of Doc Martin's decades of patient records was enough to convince me of the poisons from the Rumford Mill. She tells so many personal stories of get togethers with friends. Doc Martin's widow moved up Rangley way and shared her husband's files. While a practicing physician, he bravely presented this information to the proper authorities, but was silenced. "There's an old saying around Mexico and Rumford by a misinformed few," Doc Martin wrote later to the DEP, "that the stench in the air is the smell of money. What should be added is the smell of death and suffering".
The mill offered a kind of first aid for workers who experienced burning eyes, sinuses, lungs and dizziness and worse: Milk of Magnesia, take it easy and go back to work. Later, when cancers occurred, mill workers asked for their health charts and simple recordings of flu like symptoms or pneumonia were on record. All to protect production at the mill and steady jobs.
Kerri Arsenault took four years to finally figure out her own father's death certificate and the complications of his health at the end. So many in Cancer Valley have been lost. Children in 2018 now are the victims according to national studies of all 50 states.
This author blends personal experiences and interviews with history of giant importance. I find her history revealed and present day Angus King efforts all so very relevant to making Maine better than simply "Vacationland." Hunger in Maine, water and air pollution around mills, soil leaching of toxins, what issue does this author not touch on?
Read her frustration with trying to connect the dots held within boxes and boxes of files documenting Cancer Valley in Maine. She claims no solution, but her years of research is so very personal in her family life and loved ones lost.
"This book was printed on paper bleached without chlorine gas, chlorine dioxide, or any other chlorine-based bleaching agent." The shiny, glossy National Geographic magazines we all love so dearly are from Rumford mill paper, as are those shiny tourist post cards. Her delving into chlorine to make pampers concerns me as we used many 46 years ago…the story is repeating history and why have we not learned yet?
The Mexico flip from Obama to Trump was an on the ground explanation of the 2016 election. Kerri even visited Trump Tower. Her changes in thought regarding Roxanne Quimby land purchases and designation as national monuments show growth and acceptance. I especially loved her history of Mardens Discount Store with Mickey Marden and all. My neighbor in SC is Liz Marden Bliss who helped her brothers pump gas in Albion. Small world. Hurricane Hugo offered many wet goods for the Marden brothers to dry out and sell in Maine. Our paper mill in SC is providing jobs like the Rumford Mill and I often stop while train loads of wood chips are hauled to the plant on the Cooper River.
According to Dani Shapiro, author of Inheritance, "Mill Town is a powerful, blistering, devastating book. Kerri Arsenault is both a graceful writer and a grieving daughter in search of answers and, ultimately, justice."
<— Previous Article • Summaries • Next Article —>
©2021 by Summertime in the Belgrades. All rights reserved.