The Circle Dance
by Dick Greenan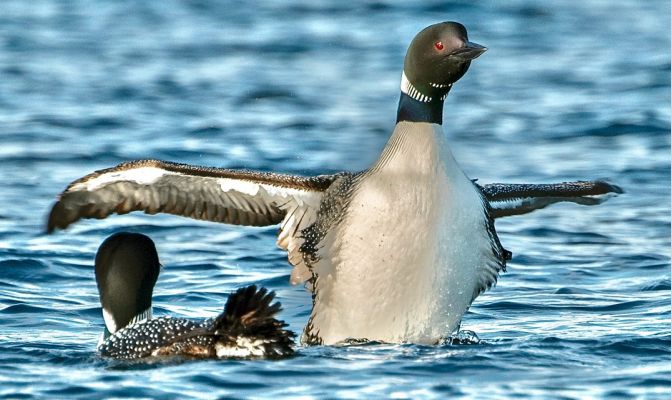 Q: I just found a loon chick under my dock that has been abandoned. What should I do with him? What should I feed him?
A: 99% of chicks that appear to be abandoned have been merely "stashed" by a parent in an effort to protect them from an intruder (typically a rogue loon interested in their territory) or some other threat, human or otherwise. The best thing that you can do, as an apparent threat, is to leave the area, and usually within an hour, or sometimes longer, one or both of the parents will return. The wait can be pure torture but it is the best thing you can do. After a while, the chick will usually start calling for their parents with little chirps but it still may take up to an hour or so, and forever, if we are still in the vicinity.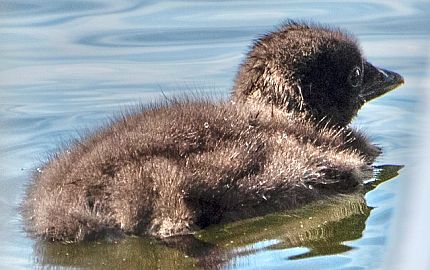 We observed what we assumed was an intruder approaching "our" parent approximately one hundred yards away when we began searching for the chick with our binoculars. We finally found the chick dutifully and safely stashed under a dock while the parent went about dealing with this intruder into their "home" territory. This intruder could have been a descendant from this cove thinking they were just coming home, but we don't know without having leg bands by which to identify the birds, hence another reason for our banding program. But this loon was taken for an intruder, which initiated a "circle dance" by which the birds form a rough circle and all look down at the same time to make sure that they will not fall prey to a rouge loon looking for a "free" territory.


Dick Greenan is chairman of the Belgrade Lakes Association's Loon Preservation Project. If you have a particular question regarding our Belgrade loon population, please email your inquiry to info@blamaine.org, and he will try to answer you either in this column or via email.
<— Previous Article • Summaries • Next Article —>
©2021 by Summertime in the Belgrades. All rights reserved.