Happy 120th to Waterville City Hall and Opera House!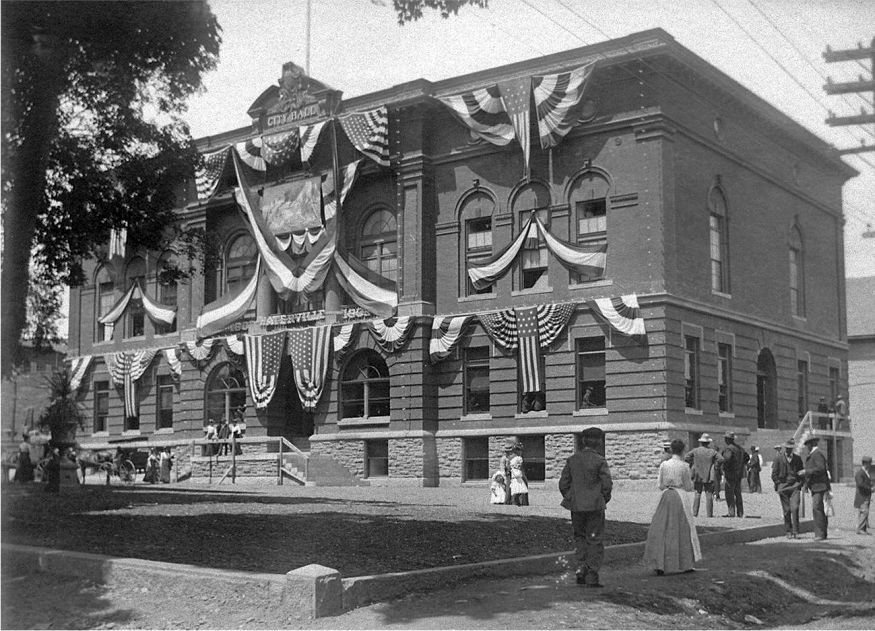 Waterville's City Hall and Opera House recently reached their 120th birthday. The Colonial Revival building was dedicated June 23, 1902 during a three-day celebration the centennial of Waterville's having separated from Winslow in 1802.
That this new city hall should include a theater was not uncommon. According to an article written previously by Opera House box office manager and unofficial historian Emilienne Ouellette, "In New England during that time, there was an architectural trend of building large City Hall or municipal buildings with grand theaters on the second floor. These theaters functioned not only as entertainment centers, but as gathering places for countless functions such as meetings, lectures, travelling orators, politicians, and even the occasional religious service. One architect that specialized in these particular buildings was George Adams (1850‑1932) of Lawrence, Massachusetts.…By the time he arrived in Waterville in the late 1890s he was very experienced in designing theaters."
In Central Maine, municipal halls in Hallowell, Augusta, and Skowhegan also exemplified that trend, although Waterville's city hall is the only building in Maine designed by George Adams. Those other three municipalities built town or city halls within ten years of Waterville's, each building with municipal offices on the first floor and a theater upstairs. The Hallowell and Skowhegan municipal halls are still being used as such; the Augusta City Hall has since been converted to apartments.
In Waterville, "thousands of eager citizens" came to see the new building, Ouellette reported: "According to firsthand accounts, so many people arrived for the opening, they filled the theater (which original[ly] sat 925), the lobby, the grand double staircase, and then spilled out into Castonguay Square."
The dedicatory program took place Monday, June 23, at 10:00 a.m. The program comprised an invocation by the pastor of the Methodist church, speeches by dignitaries, a formal presentation of the building's keys to the mayor, and much music, including performances by a choir of schoolchildren, an 80-member community chorus, two soloists (one of whom was a Waterville-born but nationally known opera singer), and the R.B. Hall Orchestra. Born in Bowdoinham, Robert Browne Hall (1858 – 1907) was an internationally acclaimed coronetist, composer, and band conductor who wrote over 100 marches.
So what and when was the first play performed upon the new stage? No one knows for certain, but the performances took place later that year — the exact dates are not known — and the play is believed to have been Oscar Wilde's The Importance of Being Earnest.
<— Previous Article • Summaries • Next Article —>
©2022 by Summertime in the Belgrades. All rights reserved.