Belgrade Lakes: One Destination for Many Reasons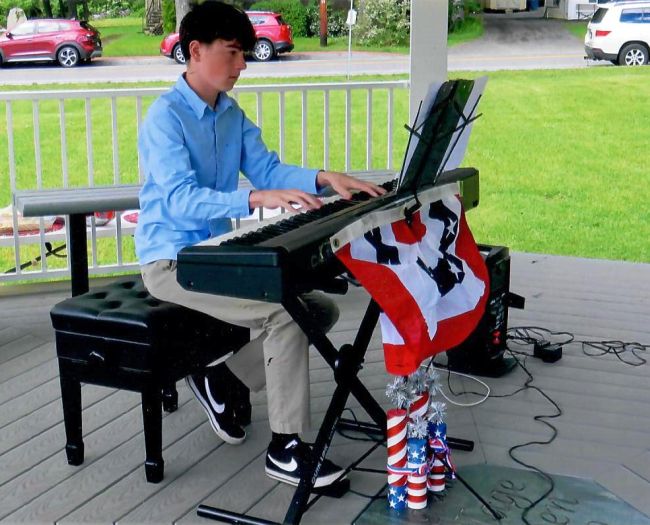 For sidewalks to stroll, shops to visit, vistas of surrounding waterways and a variety of community activities, Belgrade Lakes is ready with an exciting small town, why-we-are-in-Maine, mostly outdoors summer schedule.
The focal point of the seasonal schedule is the gazebo on the Village Green at the southern end of Belgrade Lakes. Weekly concerts every Thursday, monthly craft shows the last Sunday and special presentations such as the Union Coffeehouse, piano recitals and book discussion groups use the gazebo where there is ample room for spectators, a neat, not uncomfortable stone wall to sit on and the advantage of watching the world walk, bike and drive by.
Just south of The Village Green, the Center for All Seasons bustles summer long with Golden Pond Day Camp and Camp Loon Teen Camp, gym activities, a public waterfront, a swimming pool, the best, most Belgrady porch in the region and cool trails by the lake. Among other events, the Center for All Seasons will host the Friends of the Belgrade Library Book Sale July 2 and the Belgrade Fire & Rescue Department Beanhole Supper August 6.
At the north entrance Belgrade Lakes, Peninsula Park on Long Pond is a refuge for picnics and to spend some peaceful moments, while the nearby post office is a hub of sociability where boats arrive and dock from Great Pond and where raffles are sold to benefit the Belgrade Lakes Association. Members who staff the raffle table and are an unofficial welcome committee can answer questions about the Belgrades, give directions and assure visitors that here is the best possible location to visit, enjoy and return to.
Another center for information about the area and especially the lakes, the trails and the many preservation projects is the 7 Lakes Alliance headquarters at 137 Main Street, where visitors are welcome to look at the displays and discover a calendar of activities that everyone is welcome to join. The Belgrade Farmers' Market is held in the 7 Lakes parking lot every Sunday.
To top off a visit to Belgrade Lakes with an evening out, the historic Village Inn and Tavern near the 7 Lakes Alliance center is open for dinner and offers a summer music schedule — to be announced soon.
Belgrade Lakes is truly one destination for many reasons.
<— Previous Article • Summaries • Next Article —>
©2022 by Summertime in the Belgrades. All rights reserved.