Maine at 200, by Tom Huntington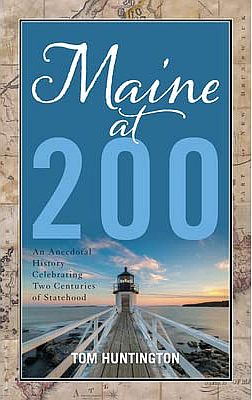 Maine at 200 is another history of our state published by Down East Books in 2020, which I purchased at Bull Moose, discounted to $18.97 this summer. That COVID year delayed many celebrations throughout the state. Now we can gather, thank goodness, and celebrate 202 years of statehood, for "shuwah!"
The historian who summarizes anecdotally each decade was born in Augusta, Maine. Tom Huntington has written for Smithsonian, Yankee and other notable magazines. He was editor of American History and Historic Traveler magazines. Other books by Huntington are Maine Roads to Gettysburg, Pennsylvania Civil War, and Ben Franklin's Philadelphia. He now resides in Camp Hill, PA.
Charles Lindbergh's landing on Old Orchard Beach sand in 1927 was due to foggy conditions at the nearby airport. He visited all 48 states upon his return from Paris, and Maine was his only delayed arrival time. The Spirit of St. Louis dug into the wet sand when taking off and he circled Portland and Poland Springs where his relative was vacationing. Downeast fog ruled Lindbergh's flight plans, delaying his schedule by days…
We had our own Great Pond visit by Charles and his wife Anne Morrow. Mr. and Mrs. Swann, owners of Pine Island Boys Camp, welcomed the famed pilot and wife, concerned about their camper son. Charles was most interested in the septic system on the island, according to Swann's grandson who presented camp history at Union Church awhile back. It speaks volumes of the security they felt here in Maine for their son after the terrible kidnapping of the couple's first born.
Margaret Chase Smith of Skowhegan steals the show for me as far as politics are concerned. President Truman, Democrat, praised her confrontation of McCarthyism, as "the finest thing that has happened here in Washington in all my years in the Senate and the White House."
Republican Margaret Chase Smith remained in the Senate for many terms after her famed "Declaration of Conscience." I love the Maine comment from a little girl wondering if you had to be female to be a senator from our state. Susan Collins and Olympia Snowe served together for years.
I highly recommend the Margaret Chase Smith Library in Skowhegan, designed by this unique woman who served 36 years representing Maine on Capitol Hill. She actually added a lovely room onto her home by the river for Ike and Mamie's visit. Classrooms of students visit and individual tours are permitted. Lack of voting concerned her greatly so she created this research library for any inquiring mind.
The chapter "Terror Strikes Home," details every Maine connection with the 9/11 tragedy. From airport connections to Maine employees at the Pentagon in Virginia. Quite meticulous in this tangled web of people and observations, anecdotal history at its best.
Find the decade that interests you and read in-depth reporting. I bet you will learn something new about our state. Thoreau actually helped his dad with pencil making after graduating from Harvard and disliking teaching, especially disciplining students. Who knew that? I didn't… "As Thoreau lay dying on May 6, 1862, a friend heard what he said were the last intelligible words he uttered. They were 'Indian' and 'moose,' evidence that his experiences in Maine resonated with him to the very end."
P.S. I actually found both homes in Quaint Acres, Silver Spring, Md. where Margaret Chase Smith and Rachel Cason lived. Huntington devotes only a small paragraph to Carson's summer home on the coast of Maine and her work which influenced global science on the balance of nature… Their homes in the D.C. area are surrounded by land and trees and Maine beauty in the suburbs!
<— Previous Article • Summaries • Next Article —>
©2022 by Summertime in the Belgrades. All rights reserved.