Bikes for Books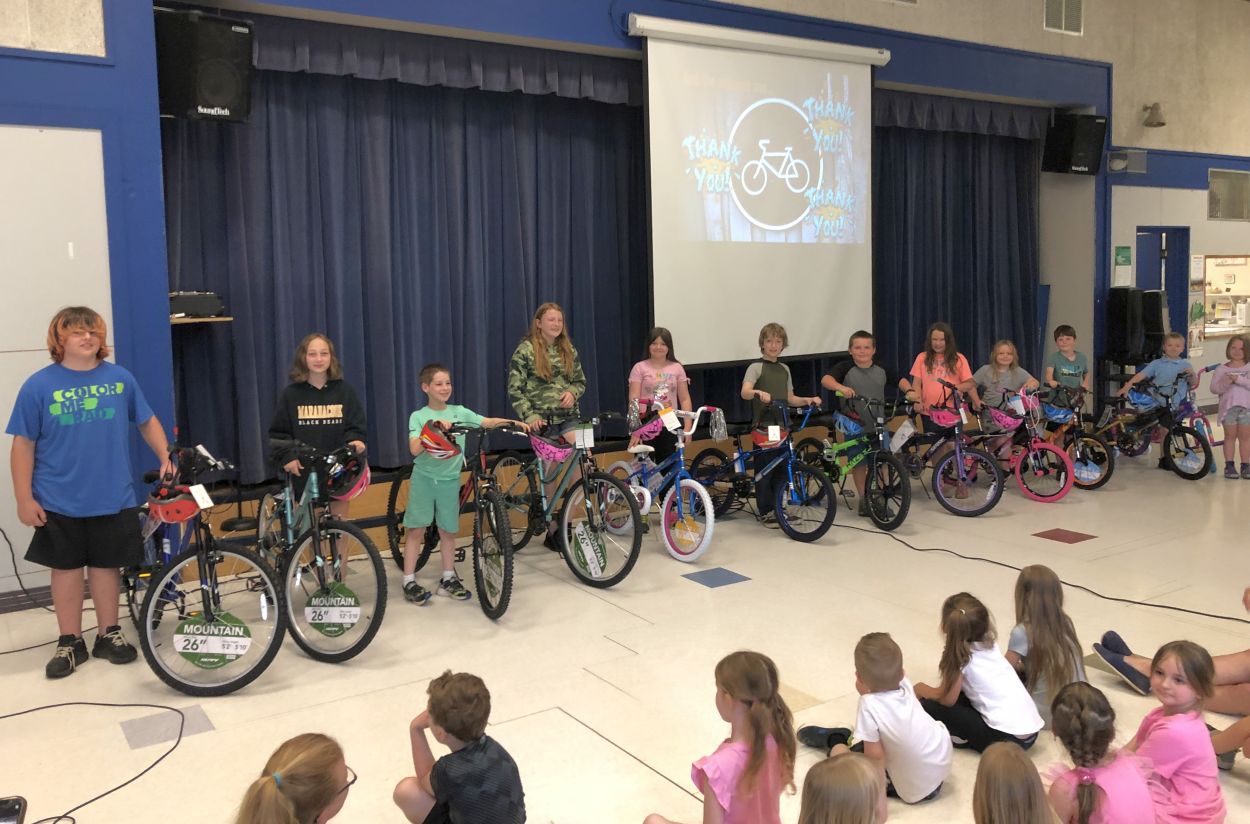 Students at Mt. Vernon Elementary School and Belgrade Central School held annual Bikes for Books program events recently. Bikes for Books is a program sponsored by The Masonic Grand Lodge of Maine, which encourages reading in school and provides bikes as incentive.
Students read as many books as they want over a given time frame, usually a month. After each book a "report" is written by the student and then submitted for a raffle. A student can increase their odds by reading more books, and most do. At the end of the month a presentation assembly occurs where each class is brought together and a raffle occurs. One girl's bike and one boy's bike are given out to students in each class.
An informal poll showed that over half of the students who won bicycles did not have one. One of the second grade students told me that her mother was planning on buying her one. So the program continues to give by allowing families to use the money they would have spent on a bike in other ways.
Winners from Belgrade were:
Kindergarten: Madison Robideau and Carter George
1st Grade: Briana Leblanc and Brody Ware
2nd Grade: Aubrey Woodman and Cole Tibbetts
3rd Grade: Lindsy Fielder and Austin Clement
4th Grade: Faith Moody and Dominick Bosse
5th Grade: Rena Soucie and Jacob Kenshelo.
Mt. Vernon Winners were:
Kindergarten: Kassidy Cates and Cormac McCarthy
1st Grade: Lilliana Darveau and Sam Miller
2nd Grade: Cadence Bickerman and Duncan Webb
3rd Grade: Mya Brown and Logan Post
4th Grade: Natalie Morse and Loki Lyon
5th Grade: Brinley Farwell and Carter Curtis.
The bikes for Belgrade children were donated by the Sidney Masonic Lodge and the Vernon Valley Lodge in Mt. Vernon. Bikes for the Mt. Vernon children came from the Vernon Valley Lodge. Funding for the Vernon Valley program comes from Sales of Christmas Wreaths. We sell undecorated wreaths for $25, split that with the wreath maker, and use that money to purchase the bikes.
Over the last five years we have been able to provide 66 bicycles and helmets. With rising costs, we need to hustle to sell our wreaths over such a short period of time. We are trying something new this year by asking people to consider buying one of our wreaths and preorder it for delivery for Thanksgiving weekend. Preorders can be arranged by calling or texting Jim Webster 462‑3472.
<— Previous Article • Summaries • Next Article —>
©2022 by Summertime in the Belgrades. All rights reserved.