25 Years Ago: A Season of Celebration
by Esther J. Perne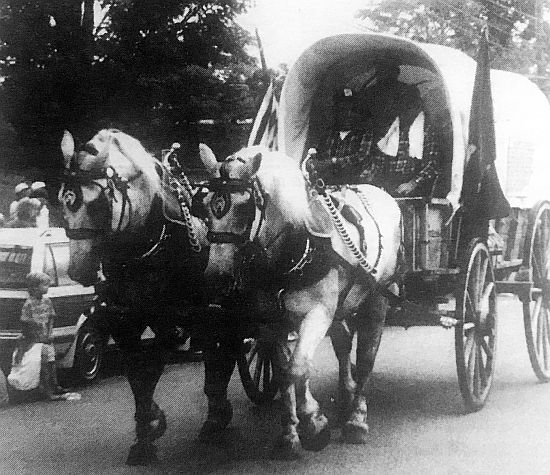 The Town of Belgrade turned 200, the Conservation Corps was born, Pine Island Camp celebrated a one-year "Victory Over the Fire" and Maine's Great Ponds Task Force held a public forum in Belgrade.
It was a summer of parades and parties and people mingling, celebrations and concerts and crowds everywhere. It all seemed ageless and timeless and just plain wholesome fun and yet the activities were interspersed with very formal and forward-looking meetings, projects and plans that benefit the region today — rec programs, lake week, fairs and other community gatherings.
First the birthday — the big bicentennial bash. Many people made it possible, helped in the events, participated in the festivities but it took a town manager who wasn't from Belgrade to select the perfect person, a retired military man and native Belgrader who knew his town well.
Bicentennial Committee Chairman Carl Yeaton not only set up the year-long schedule — from a fashion show in February to a United States Army Field Band finale in October — covering many facets of Belgrade's heritage, but he also divided the summer's festivities into three major successful celebrations which, he stated, "should attract people from all walks of life": Lakes Appreciation Day in Belgrade Lakes Village, Sports Day in Belgrade Depot, and Farm Days in North Belgrade.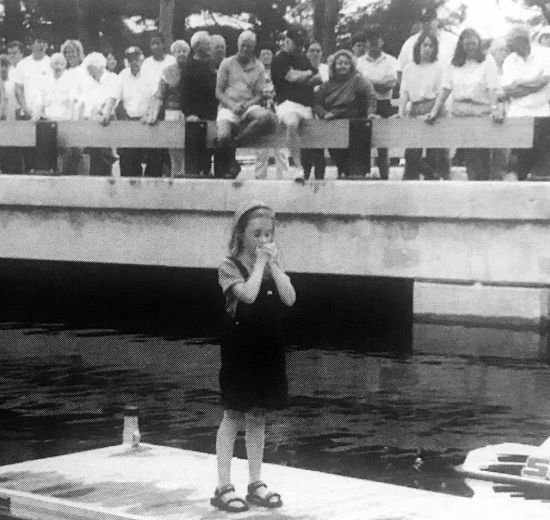 Lakes Appreciation Day in Belgrade Lakes Village was devoted to wonderful, water-related activities from early morning pontoon rides to exhibits and events throughout the village to two very unique water parades — followed by the Belgrade Fire Department's famous Bean Hole Bean supper and the annual Loon Calling Contest.
Capping the many projects in preparation for Lakes Appreciation Day was project Peninsula Park, a 3-day work extravaganza by the Belgrade Lakes Conservation Corps who transformed a hard-packed, unlandscaped jut of land into Long Pond where people would drive their cars to the lake to wash them into a beautiful mecca of trees, paths and picnic tables.
Representing the combined interests of all who lived, worked and relaxed in the watershed, the Belgrade Lakes Conservation Corps, composed of two dedicated work teams of the area's best-qualified high school and college age youth, was the brainstorming outcome of the newly formed Lake Associations of the Belgrades — the first formal organizational link of the chain's seven lakes.
Celebration number two was Sports Day in Belgrade Depot, a gathering place known for its sports fields, elementary school, a loop of road good for foot races and — today — the Belgrade Library. Sports Day included food, fun and the opportunity to watch and cheer bike and foot races, Bambino League baseball, under/over 40 mixed-sex softball and a display of old uniforms, including Belgrade's James Minot wearing his 50-year-old high school uniform.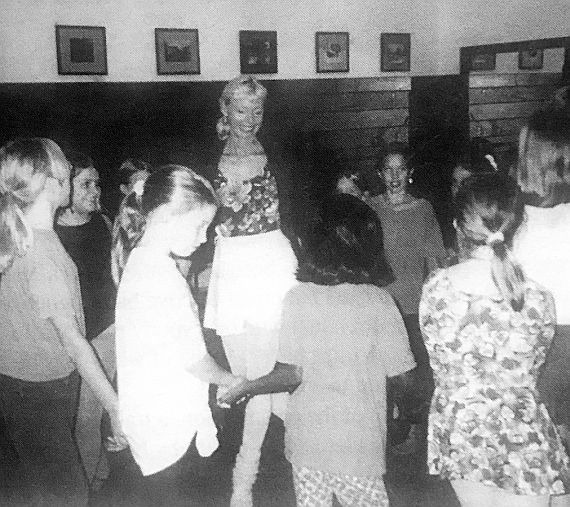 After school began in the fall, Belgrade Depot was the site of a special "Tell me About Belgrade" Bicentennial Children's Project, a unique presentation and puppet show researched, developed and performed by third through sixth graders at the Belgrade Central School, based on information collected from their ancestors and other old-timers.
For its summer schedule finale, the Belgrade Bicentennial celebrated with Farm Days in North Belgrade, featuring music by the Gawler Family, farm items and animals, concessions, a chicken barbecue, a horse drawn carriages and farm vehicles parade and a "street" dance in the evening. Belgrade's Lyle Strickland had his authentic Conestoga Wagon on display and in the parade, Nancy French and Bill Tukey exhibited pony pulling and a miniature replica Prairie Wagon carved by hobbyist Ervin Bickford was raffled.
Farm Days saluted the area's farming heritage, its poineer beginnings, its long history of agricultural excellence and a rural quality of life that still influences the Belgrades today (1996).
It's a quality of life that continues 25 years later.
<— Summaries • Next Article —>
©2021 by Summertime in the Belgrades. All rights reserved.