The Variables of Measurement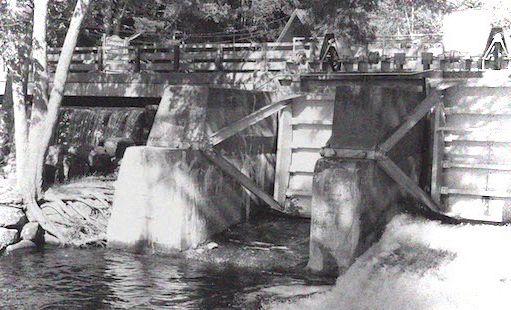 We had an interesting question this past week from an upper Long Pond resident: "You stated that the water level at Long Pond's Wings Mill dam was 1.4″ above full pond but our 'measuring rock' is now totally under water. Something is not right for this time of year?"
Well, T.S., the top of upper Long Pond is 9 miles from the Wings Mill Dam and Long Pond was essentially tilting with a gradient of about ½″ per mile, sloping South. In other words, with that week's 2″ of rain and the runoff from its steep watershed, upper Long Pond was about 5″ higher than the Wings Mill dam 9 miles to the south. Ground saturation and wind of course will add additional variables. These are just a few of the things that the volunteers on your Dams Committee get to fret about! All you should have to "worry" about is, do I put on SPF 30 or 50? Or, do we go to Day's before or after lunch?
Due to the recent rain events, the water level at Great Pond's Village dam is still holding at a meager 0.36″ but still above full pond with the main gate still closed. Long Pond's Wings Mill dam is also holding above full pond at 0.84″ with both gates still closed. Salmon/McGrath is, because of the mandated 1 cfs 24/7 flow, basically right at full. Messalonskee, a.k.a. Snow Pond, has as of this writing, dropped even further to 6.24″ below full.
If you have a particular question regarding our dams or water levels, please email your inquiry to dickgreenan@outlook.com and we will try to answer your question either in this column or via email.
Enjoy the family, your vacation and this incredibly beautiful weather and please stay safe!
Dick Greenan is secretary to the Belgrade Lakes Watershed Dams Committee. He submitted this report on July 27, 2022.
<— Previous Article • Summaries • Next Article —>
©2022 by Summertime in the Belgrades. All rights reserved.