Bobber or Band?
by Dick Greenan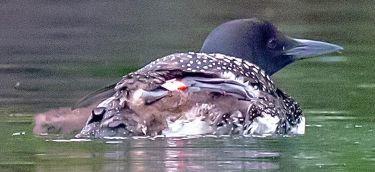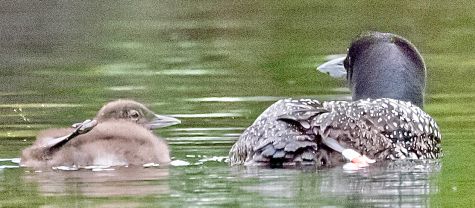 Q: There is a loon and a chick in Lynch Cove [on Long Pond]. The mother appears to be entangled in some fishing line and a bobber. The observation was made by friends who stayed at our camp last weekend.
A: Thanks for the observation! I'll head down there within the hour and check it out. Hopefully there's no fishing line and what looks like a bobber were the bands from the banding that we just did a couple of weeks ago, which can look like a bobber. I'll go down and check and let you know. Thanks again.
Our observations and photographs confirm that what their friends thought was an adult loon wrapped in fishing line and a bobber was actually a recently banded female adult with four new brightly colored leg bands.
We had a similar report last summer from a boat of fisherman in Long Pond's Ingham Pond. Observations such as this are fairly common and our braincase easily makes the connection that if it looks like a bobber attached to the loon, then there must be fishing line! We encourage all calls regarding loons in distress as we would rather be safe than sorry. And the outcome in this case was excellent with what appeared to be a healthy female adult with her four week old chick.
As this is our final Call of the Loon column for this season, I want to thank Esther, Michael, and Gregor, and the rest of the Summertime in the Belgrades staff for their support this past summer. I also want to Thank all of you for your care and support of our cherished loon population. It has been my sincere pleasure to be just a part of this project.
Dick Greenan is chairman of the Belgrade Lakes Association's Loon Preservation Project. You can reach him at info@blamaine.org.
<— Previous Article • Summaries • Next Article —>
©2021 by Summertime in the Belgrades. All rights reserved.