The Lowering Days
by Martha F. Barkley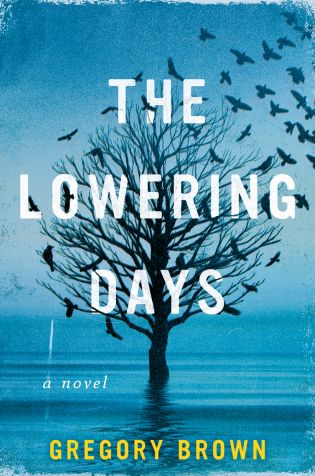 The wind was down and the water as undisturbed as glass, and I was reminded of what I had realized years ago as a child — a lake is simply a window into the earth. Some see through it, some don't.
I still have not fully read Gregory Brown's first novel, but I wanted to share this description before I reach the end. Every time the lake is still and quiet, I wonder if it is there, so I look out to check on the absolute stillness. I think a lake is an eye of God…
The Lowering Days is a Penobscot Bay story involving arson at a polluting mill and other crimes among a close-knit community. The title comes from the name of the local community paper, edited by a most unusual, singular woman. Her husband is the creative boat builder, wooden wonders especially designed and lovingly constructed.
Renee pulled this popular selling novel off the shelf for me at Oliver and Friends Bookstore on Main Street in early June when I attended Earl Smith's signing of his newly published history Downeast Genius. I had bought that new title several weeks prior. In Downeast Genius, I was most impressed by Margaret from Maine, who invented the flat-bottomed paper bag. Smith even comments about paper bag use during our pandemic year.
Back to the novel. I devoured especially the Penobscot language as printed and translated within Brown's novel. Both Gabe Paul and Conor Quinn were recognized for their Penobscot Nation expertise in the acknowledgements. Donald Soctomah was also consulted about the Passamaquoddy tribe.
I realized [a dense wood of gnarled hemlock trees] was a stand of ancient oldgrowth forest, never touched by human saws. The trees seemed impossibly tall. Lichens spotted their trunks a hairy, fluorescent green. Great webs of moss wove between canopies like spooky cloaks…
From the starry heavens as reflected in our Maine waters to the underground roots and warmth felt in deep winter diggings, this author covers a world in nature studies and human conflict. Family resentments and knowing each other from the beginning and way back ancestors all combine in this well developed story of survival and resilience and compromise and tolerance.
Who set the fire that burned the mill? Where were they hiding? From the ashes of the destroyed mill the growth of green reconquers the pollution and poisons and destruction. The Lowering Days local paper has strong opinion pieces week after week while town resentments build.
Gardeners may find planting plans of interest: "They planted it half full with greens and corn and squash and beans. They filled the other half with storage crops. Beets. Potatoes. Turnips. Carrots. Onions."
Musquash Lake is even mentioned with a little history of Indigenous peoples living there. My husband Frank and I camped on East Musquash 46 years ago before our son was born. I have vivid memories of cooking and washing the dishes as an awkward pregnant young woman. A huge tortoise even crawled up a boulder while I was sunbathing!
The world was green and filled with possibility — chortling tree frogs and snapping fireflies and great spinning shows of stars. Our world along the river, though, was still a hole through which you could fall forever.
Read and reflect upon Gregory Brown's first novel about peoples and places not too far from our Belgrade Lakes deep blue waters:
Suddenly the water is a mirror of the sky, and the mirror is a mirror of the water-sky. But the magic is only beginning…My father tells me this is an infinity mirror, and I can hardly breathe with wonder. My father tells me the reflection will go on forever.
<— Previous Article • Summaries • Next Issue —>
©2021 by Summertime in the Belgrades. All rights reserved.