Feeling A Drought
by Dick Greenan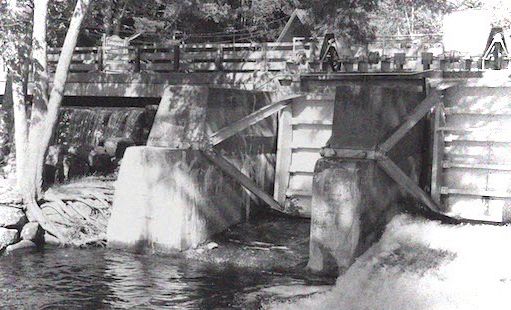 Well, our ponds are really starting to feel the effects of another drought, although to date, we're in better shape than in the past five years at this point in the summer. Although the Great Pond and Long Pond dams have been completely shut down for a good two months now, Great Pond is actually still up above full pond, a whopping 0.36″ but we'll take what we can get. Long Pond is now down 0.48″ below full, the first time we've been below full pond since this past fall.
Our Dams Keeper on Salmon/McGrath reported in this morning that they are 2.4″ below full pond with their one gate still opened just enough for the mandated 1 cfs flow. Your Dams Committee is in the process of installing a new digital data logger at the Salmon Dam which will more accurately control that 1 cfs, which we suspect is closer to 2-3 cfs. This will save more water for those Salmon/McGrath residents.
Our neighbors on Messalonskee are also starting to feel the "pain" as they are presently down 4.56″ below full pond due to Essex Hydro's electricity demands but also this lack of precipitation.
As I pen this week's issue, we are forecasted to have 1.31″ of precipitation over the next ten days, which if we get it, will be a significant relief. Remember that once the air temperature hits 80°F and above, we lose 3⁄10″ a day due to evaporation so you can see why our water levels continue to be a concern without adequate precipitation.
The water temperature on upper Long Pond is currently a whopping 74°F — at the surface of course! You're on your own if you have to go further below, like standing up! Still refreshing and delightful!
Enjoy the family, your vacation and this incredibly beautiful weather and please stay safe!
Dick Greenan is secretary to the Belgrade Lakes Watershed Dams Committee. He submitted this report on June 24.
<— Previous Article • Summaries • Next Article —>
©2021 by Summertime in the Belgrades. All rights reserved.