A Day Chasing Loons
by Dick Greenan
Belgrade Lakes Association board member, loon volunteer and Great Pond resident, Paul Feinberg, accompanied me on a recent Great Pond Loon territorial survey and was so moved by the experience that he penned this beautiful poem that I would like to share.
A Day Chasing Loons
Hard out of the North A Following stern wind Push us, yawing and sliding White caps froth, Not to be spurned, And the Osprey is warned A spectacle, proud and high Yapping away all prey Majestically poised and held Aloft, frozen in flight Survived the frigid spray and washboard of North Bay Sentinel loon sighted Nest unveiled, behind the hummock Nature's blind: Found, the first, noted Binocs grasped, there Banded or not? Exasperated by the super slink Chuckling at their foot waggle Preen, and dive Fishing or guarding Pine Island, Robbins Mill and Blueberry All found, hidden and guarded None at last year's ferry spot, where charted Found, three more and noted Gender, on sight unknown Yodel, reveals, only the male Partners for life, a jealous model Equally blanketing the egg, so solid Two old guys out on a perfect cloudless day On a Thursday in June On a Lake in Maine, Enhanced and entranced Learning to care for each other, Just spending A day chasing loons
Paul Feinberg, June 15, 2021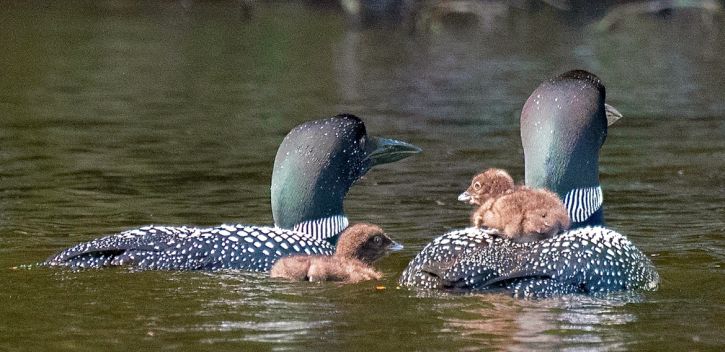 Dick Greenan is chairman of the Belgrade Lakes Association's Loon Preservation Project. If you have a particular question regarding our Belgrade loon population, please email your inquiry to info@blamaine.org, and he will try to answer you either in this column or via email.
<— Previous Article • Summaries • Next Article —>
©2021 by Summertime in the Belgrades. All rights reserved.