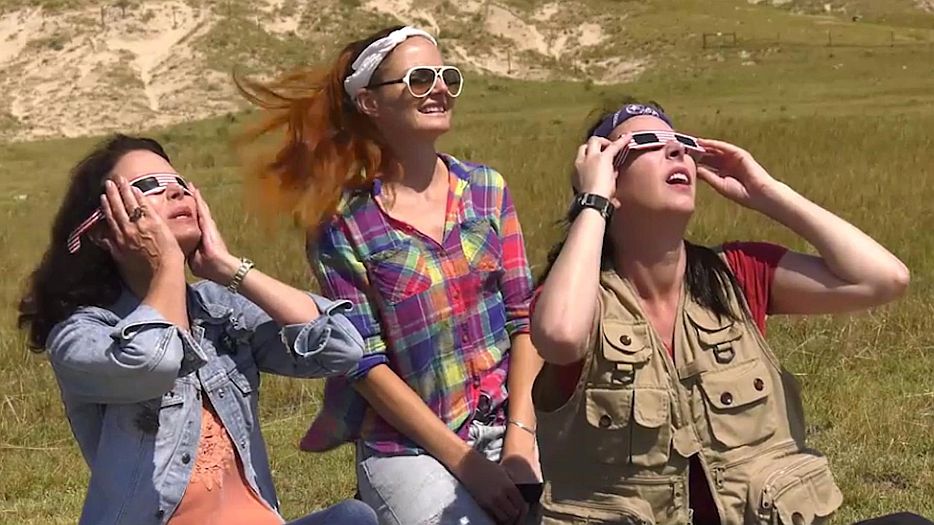 Highlights from this issue…
Links to Other Pages on This Site
McGrath Pond/Salmon Lake: The Annual Meeting Comes To Order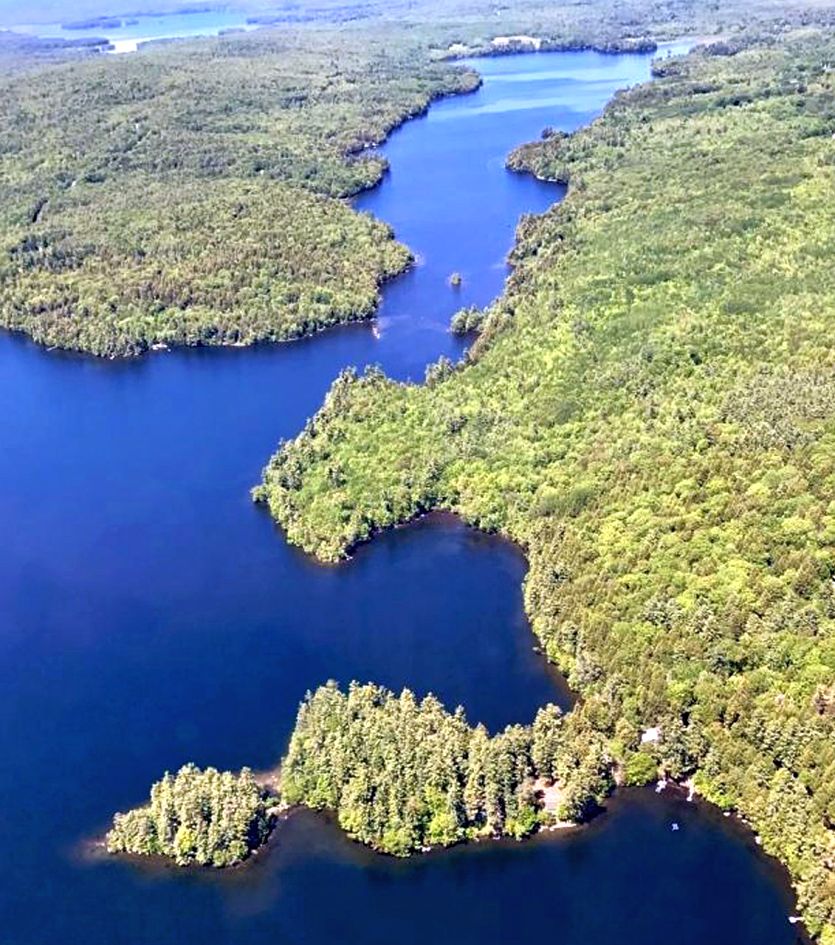 Summer of 2019: It's time for the five lake associations in the Belgrades to hold their annual meetings, and the first to assemble is the McGrath Pond/Salmon Lake Association. Small, dynamic, forward-looking, the MPSLA is celebrating its 30th anniversary — celebrating a lot of good things this year and celebrating three decades of a steady track record working to improve water quality.
Lake associations are formed for many reasons. On McGrath/Salmon, it all began with one resident who noticed the lake was turning murky green and who traced it to the sources, a town gravel pit leaking into the lake and some illegal logging. Other property owners became involved. Working with the town, they got it to put a siltation pond at the bottom of the gravel pit. The logging was halted. The desire of residents to prevent further deterioration of the lakes wasn't. Conversations led to meetings, led to forming an association.
Lenny Reich, that first concerned resident, who was MPSLA President from 1989-1993 and is currently Vice President and editor of the association's impressive newsletter, wrote the following:
In April 1989 the Association paid its state fees and officially became a nonprofit corporation. The first annual meeting took place that summer at Camp Tracy. Throughout the 1990s, our Association worked to improve water quality in our lakes and to build community among the folks who loved them.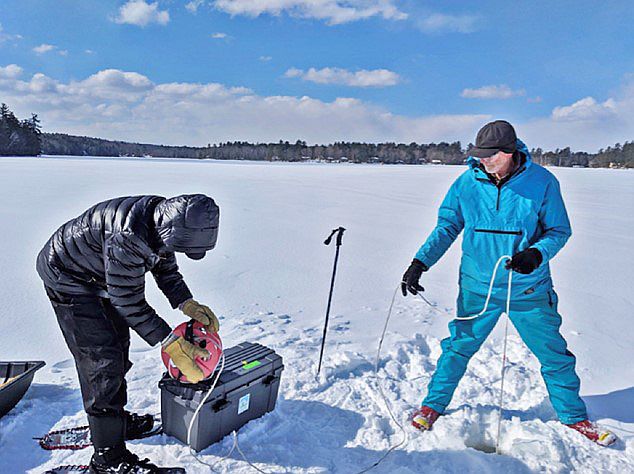 Under Lenny's auspices, the MPSLA was instrumental in forming the Belgrade Regional Conservation Alliance (currently the 7 Lakes Alliance), was involved in the initial meetings of representatives of all the Belgrade chain of lakes — a group called the Lake Associations of the Belgrades, LABs, and starting the Belgrade Lakes Conservation Corps (today's Youth Conservation Corps).
In 1998, Lenny recounts, MPSLA embarked on its first comprehensive watershed survey to get a handle on where nutrient-rich runoff was entering the lakes. As a result the association remediated runoff problems on more than 100 shoreline properties over a five-year period, saving something like 14 tons of nutrient-rich sediments from ever reaching the lakes to turn them green.
Two decades later, MPSLA has just finished its second watershed survey. If anything, Lenny points out, this one is more thorough than the first:
With the recent survey as a guide, we have developed a Watershed-Based Protection Plan to guide us through the process of once again remediating over 100 sites. From experience, we know that there are tons of sediment to keep out of the lakes so that our children and grandchildren can enjoy McGrath Pond and Salmon Lake as much as we have. It's a job that's never really done, and it's good to know that MPSLA will always be here to work with those who love them to keep McGrath and Salmon as clean and as beautiful as they can be.
The 2019 annual meeting accentuated that quality of always being there for the job that's never really done.
President Jenny Allen welcomed the gathering with a brief overview of committees and activities designed to better protect the lakes: The LakeSmart program, Courtesy Boat Inspections, water and sediment sampling, cleanups the second Sunday of each month, and keeping up to date on projects on the other Belgrade lakes, the watershed and the larger lakes community.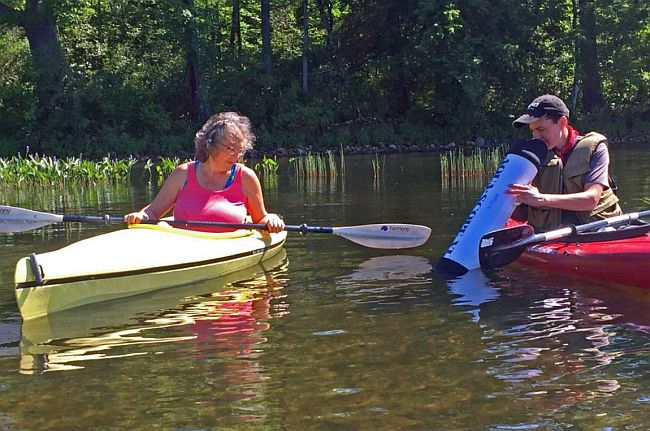 Representing the larger lakes community were guest speakers from the 7 Lakes Alliance: CEO Laura Rose Day, who described the operations and resources of the organization, Amy Eskins, who conducts the Plant Paddle programs, and Dr. Danielle Wain, who provided a water quality update.
Water quality along with water levels and the fisheries occupied the question and answer session that followed — topics close to home and near to a property owner's daily use of the lake and good reasons to get LakeSmart.
A presentation on LakeSmart strategies and activities by Kim and Dave Hallee, former president of MPSLA, provided a positive final note to an important meeting — the 30th anniversary of an association that has worked for three decades to preserve the lakes and increase the value of property.
The photos accompanying this article are taken from the Spring 2019 MPSLA newsletter. (Adobe Reader required.)
▲ To Table of Contents • Print Article • To Other Links ▼
Out of the Moon's Shadow and Into the Limelight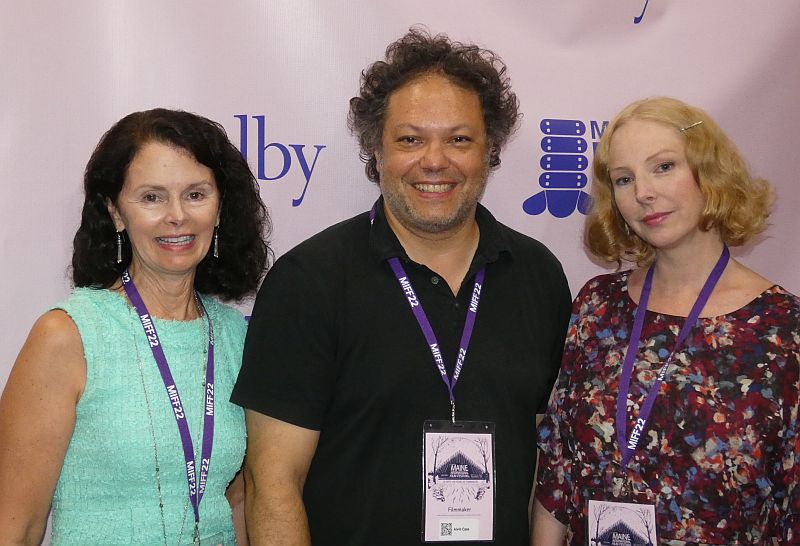 Since the dawn of civilization, the moon has inspired authors, artists, and composers. Now, fifty years to the day after Neil Armstrong made his "one small step" onto the lunar surface, a new film, inspired by a total solar eclipse, in which the moon completely blocks the sun's light for a few minutes, will have its world première at the 22nd annual Maine International Film Festival.
Co-starring Belgrade actress Debra Lord ("Dee") Cooke and partly shot in that town, In the Moon's Shadow will debut at 12:30 on Saturday, July 20, in Railroad Square Cinema's 150-seat Cinema 1. The film will be shown again the next day at 3:30 in the same room. Co-stars Dee Cooke and Elissa Piszel and director Alvin Case will attend both screenings and will take questions from the audience.
The film had its genesis in August 2016, when Cooke and Case were sitting on her dock on Great Pond in Belgrade brainstorming storylines. They had worked together before, when Case cast Cooke as the lead in his 2015 sci-fi film Analogue.
Case then talked to his brother Edward, a nuclear physicist by day and screenwriter by night. The two brothers hatched the idea of writing a story centered around the solar eclipse that would occur on August 21, 2017. The plan was to shoot for several days around the eclipse in Nebraska, where the eclipse would be total and the skies would likely be clear, and shoot additional scenes in Belgrade.
Indeed, "[t]he first third of the film is set in Belgrade," Cooke explained, in the first of a series of emails. It was shot at Cooke's family's camp on Great Pond, on a camp road through a field, and at Castle Island Camps. The film's ending also takes place on the shore of Great Pond.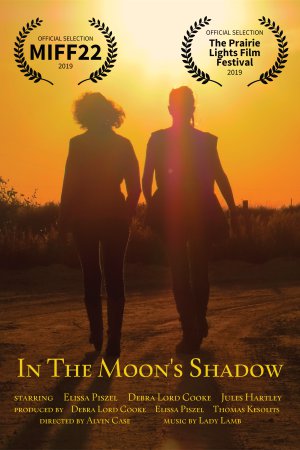 In the film, Cooke plays hard-charging, workaholic, fifty-something Lisa, who comes to the Belgrade home of her younger, more laid back, but recently widowed sister, Karen, played by Elissa Piszel. The two sisters have long been estranged, but they take a road trip to Nebraska to view the eclipse and try to work out their differences.
Edward Case wrote the first draft of the screenplay in a mere eleven days, an incredibly fast turnaround. Cooke then began to consider casting. She worked in casting before, choosing local extras for several major films that were shot in Maine, including The Man Without A Face (1993), In The Bedroom (2001), and Empire Falls (2005): "I thought of Elissa, who I had met while working on the Woody Allen feature, Café Society. I introduced her to Alvin, and he thought our dynamics would work well with these characters."
By February, Alvin Case had lined up an enthusiastic investor that would pay for the filming. He organized a film crew and booked hotel rooms in Nebraska. Everything seemed to be on track until early May, when the investor abruptly pulled out. (The filmmakers learned later that the investor had gone out of business.)
"We were devastated," Cooke wrote. "After planning our summer of shooting in July and August, it was over."
But it wasn't. A week later, Cooke and Piszel decided to raise the money themselves. "We didn't have much time," Cooke wrote. "We were in touch with Friends of the Belgrade Library and did a staged reading of the script, and the ticket price was donated to the Friends." That reading took place on July 2, 2017.
"We did make a program/playbill and took donations advertising in it. This gave us initial operating capital," Cooke continued. "My friend, Thomas Kesolits approached us and wanted to help. The three of us became producers, with Tom being the financial producer, Elissa being artistic producer in charge of crowdfunding and social media, and me as managing producer handling accounting, negotiations, and scheduling. We've made quite a team. An unpaid team, but a team none the less."
"There were countless times we were on the verge of full funding and then at the last minute it would fall through," Cooke added. "We were having huge ups and downs emotionally with all of this. It seems we were not make our deadline of raising enough to at least shoot the eclipse scenes."
Kesolits then gave a "sizable amount," which, when added to the money that they had already raised, would suffice for shooting the eclipse scenes. Still, they had to make some changes due to their reduced budget: they eliminated the role of the sisters' father, who was to be played by a Golden-Globe-winning actor, in favor of new role, a step-daughter for Piszel's character, who would be played by Jules Hartley, a Los Angeles actress who has appeared on Black-ish, Law and Order: SVU, and The Young and the Restless. They also cut the crew for the Nebraska shoot to a bare minimum — just a sound man, a unit production manager, and an intern — and reduced the number of shooting days from five to three.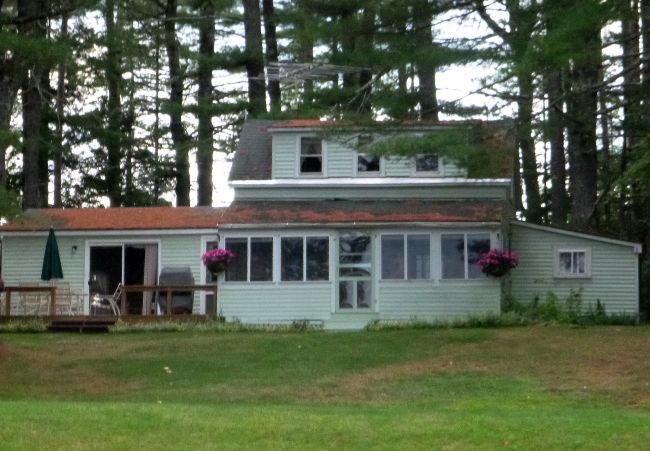 Soon after getting the money to shoot in Nebraska, they raised enough to shoot the Belgrade scenes as well. They had a larger crew, seven in all, but still limited the Maine shooting to three, long days in September 2017.
By the following March, director Alvin Case had a very rough cut of the film. "The material was good," Cooke opined, "but we felt there was something missing. We wanted to see more location visuals, movement, and action. We came up with scenes that could be inserted into the material we had and wrote a script of about 25 pages that skipped and jumped throughout the story." They worked out a budget to shoot those scenes and shot them in a single day in June 2018. "Now we had a story that we thought was even better," Cooke concluded.
In early 2019, Ken Eisen, festival programmer for MIFF, asked Alvin Case, if he could see the film. After viewing an early version, he agreed to include the movie in this year's festival, if Case could have a nearly final version by the end of May. The race was on to finish the film in time!
The last thing to fall into place was the music: the filmmakers were pleased to get Aly Spaltro, a singer/songwriter who grew up in Portsmouth, NH and Brunswick, ME and who performs under the name Lady Lamb, to write and record the film's sound track. This was completed in late June.
Even after the film's debut at Railroad Square, it will continue to evolve. As Cooke's co-producer and co-star Elissa Piszel noted, "Yes we do anticipate making tweaks after the festival, because you have to see how an audience responds to the first screening." As an example, she cited National Lampoon's Vacation (1983) with Chevy Chase, when a new ending was shot after the initial screening: "In the first cut the family didn't go to Walley World and the audience was let down. So, they went back and reshot that whole ending with John Candy and Walley World and the movie was a hit." Still, the Moon's Shadow filmmakers do not anticipate reshooting the ending or adding more scenes.
To date, five post-MIFF screenings have been scheduled. The film will be included in MIFF in the Mountains, an eight-film retrospective of this year's MIFF in Rangeley, August 2-5, and will have two showings at MIFF By The Sea, a larger best-of-MIFF collection in Bar Harbor, September 13-16. The film will also be shown in New York City on August 22, and at the Prairie Lights Film Festival in Grand Island, Nebraska in mid-October. (Since this article was written, a screening has been scheduled at the Maine Lakes Resource Center in Belgrade Lakes Village on Sunday, September 1.)
Despite having an almost finished product, the filmmakers still need to raise money. Cooke writes, "We had a hopeful budget of $120,000 but ended up finishing the film for under $60,000 with the producers being unpaid." (As members of the Screen Actors Guild/American Federation of Television and Radio Artists, Cooke and Piszel were paid for acting in the film but not for producing it.) They are still raising money to submit the film to festivals, develop a website, and cover legal expenses. One can make a tax-deductible donation through New York Women in Film & Television.
The filmmakers thank their local sponsors: Got Cake?, Visions Flowers and Bridal, and Belgrade Lakes Seafood & Dairy Bar for donating a cake, flowers, and fried clams, respectively, for use on camera; Hammond Lumber, Sadie's Restaurant, Day's Store, Christy's Store, Paul Hanna Plumbing, Belgrade Lakes Carpentry, Anchor Marketing, Comford Chiropractic, and many individuals for giving money; and Mary Cahill and Castle Island Camps for allowing the filmmakers to shoot scenes on their property. Cooke affirmed, "This film would have not happened without their support."
▲ To Table of Contents • Print Article • To Other Links ▼
The Guide Ghosts of Great Pond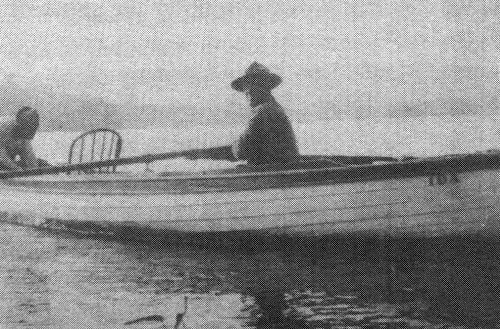 As many of you may recall, for each of the last five summers strange happenings have occurred on Great Pond. Several "near sightings" and "close run-ins" with ghostly beings lead us to believe that the Guide Ghosts of Great Pond may in fact have an annual outing on the very pond where they guided fishermen a century ago.
Foggy nights seem to be their favorite weather, assumedly to minimize the risk of being spotted. First, in 2014, it was a tourist scared out of her wits when she and her boyfriend "bumped into" a drifting old guideboat when canoeing at dusk around Abena Point.
The next year, three young teenage girls heard fiddle music and voices on Otter Island when they swam out from Pine Beach.
After that in 2016, police records note that a hysterical call came in from a man who had been sideswiped by a long white boat while he was waiting out a thunderstorm on Whale Rock. His frantic report described the driver of the long boat as a ghostly looking soul with wispy white hair.
In 2017 Phil Cobb investigated fiddle music on Oak Island and found the still-hot remnants of a bonfire.
Lastly in 2018, Rod and Doris Johnson's inboard suffered an engine failure at night while returning from a visit with Steve and Edie Dubord on Gleason's Shore. A fog had settled in quickly as they drifted onto the White Ledges and the Lyman went aground. Simultaneously they became entangled in a long anchor rode strung out from the bow of a very nice antique guideboat about 20 feet long.
They took note that the old Gray Marine engine was still warm and a pail of recently caught white perch was evident. Doris recalls smelling a rather pungent odor wafting from the craft — which she described as a mix of kerosene, fish and wool, all with a strong tinge of home brew. Given the evidence, who could doubt the existence of The Guide Ghosts of Great Pond. This leads me to report on some very recent shenanigans that were reported to the Maine Warden Service just last week.
It seems that very recently on June 22, Mr. Paul Thompson, a seasonal resident with a cottage in Sahagian Cove, Great Pond, town of Belgrade awoke early at approximately 4:45 a.m. While moving about his cottage in the new light of day he noticed a strange craft was tied to his dock. The sight of the long narrow double ended craft instantly stirred concern, curiosity and a quick stab of nostalgia. Paul realized quickly that he had not seen a boat of that type since he was a very young boy. He recalled traveling with his siblings and mother Esther when she often paddled her canoe to the village for supplies.
In the 1950s and early 1960s, a post-heyday era of the fishing guides and boats, many of these long narrow boats could be seen up on blocks or hanging from chain falls in boathouses lining the stream. Most would never run again.
Paul cautiously opened the creaky screen door, then left the camp to slowly approach the dock and craft. He had no idea what to expect and was somewhat overwhelmed with emotion.
After a good perusal of the long double ender it was clear that the driver had vanished, but he noted that the boat had been tied and fendered properly as a boatman would do. Paul also noted several items in the boat such as antique bamboo fly rods, a frog box, ring anchor with hemp rope, and several empty Kruger Ale bottles. Also, a plug of Day's Work chewing tobacco lay on the motor box. There was no hint of any identification on the craft such as a registration or hull number, only the name Ida on the lapstrake hull.
Paul then conferred with wife Maria who had joined him at the dock and agreed they should call the Maine Warden Service. The plot thickened when the couple noticed that Esther's old aluminum canoe was gone from its usual spot under the big pine.
A young warden was dispatched to the camp by mid-morning and took a full report of both the missing canoe and abandoned guide boat. After three days passed the warden returned with a chagrinned look on his face, saying that he could find no clues about either the stolen canoe or abandoned guide boat.
By then, word had spread all over town that a mysterious antique guideboat was tethered to the Thompson dock. Boat after boat came idling by to get a glimpse of the old craft. Many folks were taking pictures, some even had the gall to yell ashore, "Is it for sale?"
By the fourth day the Thompsons realized they needed to have the boat removed to regain their privacy and planned to do so the next morning. At midnight however, all hell broke loose when a strange weather phenomenon overtook Central Maine, shrouding Great Pond in a thick fog. Following the fog came imbedded lightning and north winds up to near hurricane force.
The storm slowly petered out and by daybreak it was over. The lake took on the look of a polished mirror and as if by premonition, the Thompsons peeked out of the upstairs window only to see that the guide boat was GONE — and Esther's old Grumman canoe was back in its resting place under the pine.
Once again, our only conclusion is that The Guide Ghosts of Great Pond work in strange ways — and that we can expect their shenanigans to continue.
▲ To Table of Contents • Print Article • To Other Links ▼
The Issue of Forest Pests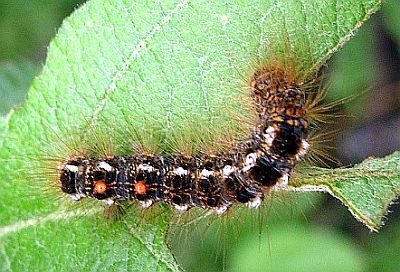 Hopefully we can help people at the park or in their back yards identify some invasive forest pests. Maine's Soil & Water Conservation Districts have a project with the Maine Forest Service to help people identify invasive forest pests, i.e. bugs that could do serious damage to our woodlands or in some cases cause you illness. While some of them have not yet appeared in Maine, many have. We need to be vigilant and identify them should they appear.
The browntail moth is already here and seems to be getting the most press coverage right now. Some areas of the State are affected more than others. Many people are experiencing the rash on their skin and other problems. Kennebec County and the midcoast areas seem much more heavily infested. Efforts to, not only identify its spread, but manage and minimize damage are in process.
This moths' caterpillar has two distinct red/orange dots on its back. These caterpillars will then create distinctive tents later in the summer and early fall. Those winter webs appear at the end of branches rather than closer to the trunk in crotches of the branches. Oak trees and fruit trees seem the more likely targets.
The browntail moth caterpillar has tiny (0.15 mm) poisonous hairs (setae) that cause dermatitis (skin rash) similar to poison ivy on sensitive individuals. Direct contact with the caterpillar or indirect contact with airborne hairs may cause the reaction. Most people affected by the hairs develop a localized rash lasting a few hours or several days but on some individuals the rash can be severe and last for weeks. We have begun to hear much more of this problem. It is also possible for respiratory problems to develop which require a physician visit and possible treatment. This year there is some benefit to the wet weather with the collapse of browntail moth due to the fungus Entomophaga aulicae and possibly other pathogens. It is unclear how much that may help now or in the future. But it seems to be shrinking the caterpillar population this year.
Another forest pest already here is hemlock woolly adelgid. It is not that uncommon. We have been working to identify its location, possible spread and efforts to control damage. Evidence of its existence are "woolly" collections on the underside of hemlock branches along the stems where the needles occur. It only occurs on hemlock trees.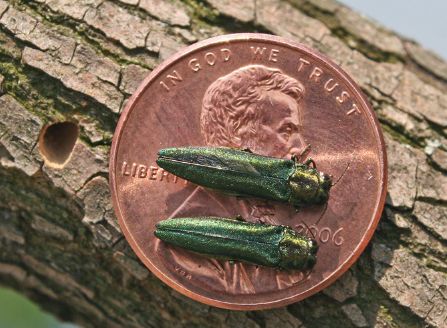 Up until two years ago we had not officially seen the emerald ash borer. Well it is now officially identified in Maine, particularly at our southwest border with New Hampshire and also in Northern Maine. The point now is to identify it early and try and limit its spread. The emerald ash borer can devastate woodlots of ash trees.
Once fully established, destroying the wood is often the best option. There are areas in Michigan and New York that have needed to remove all their ash trees. The small shiny green insects bore into the ash trees and destroy the tree from the inside. Sick ash trees should become suspect. The insects are tiny, and the actual holes in the tree's bark are also very small. The damage to the ash tree is the best way to begin identification.
What can a person do? Try and learn how to identify some of these nasty Forest Pests. The Maine Forest Service of the Maine Dept. of Agriculture, Conservation and Forestry has an excellent website for all invasives, including these forest pests.
If you think you have identified one of these critters, do not be afraid to call the Maine Forest Service at 287-3891 or email the Maine Bug Watch. They would rather help you learn it is NOT an invasive than have you fail to report the real deal. Take a picture or collect the bug in a bag or bottle and keep it in the freezer. Help out in this effort to protect Maine from these invasives.
Remember, protecting the woods is one way to protect water quality. Do your part!
Updated: August 5, 2021
▲ To Table of Contents • Print Article • To Other Links ▼
LakeSmart Tips and Tricks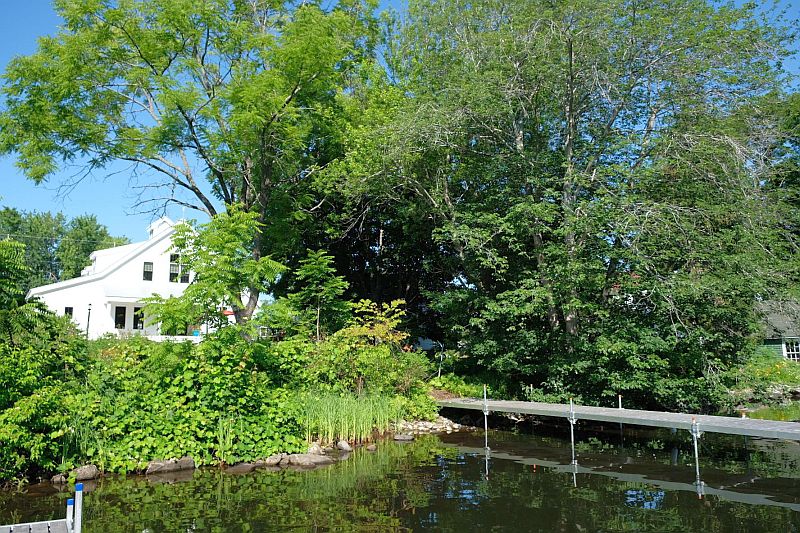 As we reach the middle of summer and water temperatures rise, you may begin to see more and more algae growth in our lakes. By late August, you may even see algae blooms caused by phosphorus that has washed into the lake. In some states, these blooms have made lakes unusable and unsafe, leaves a lot of us wondering: How can we slow down the growth of algae? How can we keep our lakes safe and usable? What can I, a lake-loving property owner, do?
Luckily LakeSmart, an educational program run by Maine Lakes Society, is here to help! LakeSmart volunteers visit properties and make recommendations that will help preserve the quality of the lakes. As we tell everyone we visit, it is all about keeping runoff, which carries unwanted pollutants, out of the lake. Here are a few things you can do to protect the water quality of our lakes:
Request a LakeSmart visit to receive personalized recommendations for your property.
Participate in the Great Pond watershed survey this September.
Cover all bare soil with Erosion Control Mulch or gravel to stabilize the area
Encourage all natural growth to develop along the shore to discourage run-off.
Clearly define all recreation areas and pathways to prevent erosion from foot traffic
Eliminate or minimize the use of herbicides, pesticides, and fertilizers.
If you look around your yard, your lakefront, your pathways, what do you see? Are there any well-loved areas looking bare? So bare you can see the soil? Here's your tip to preserve property value, protect water quality, and save the lake: cover that soil up!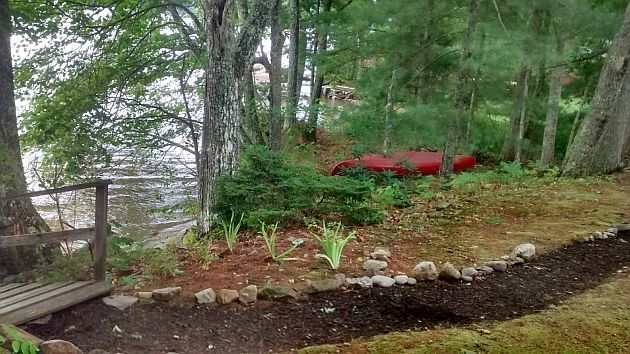 Why? Storm water carries soil with its pollutants like phosphorus into the lake where it feeds algae blooms. These blooms look ugly, decrease property value, and disrupt the lake's ecosystem. The loons we thrill to see and hear need clear water to find their food. Fish, frogs, osprey and eagles depend on a healthy lake as well.
It's easy to fix those bare spots. Covering soil with mulch keeps pollution from being washed into the lake by storm water. There are many mulches, but one of the best is Erosion Control Mulch (ECM). It contains large woody pieces and small stones that lock together, so it doesn't wash away in rainstorms. You can get ECM from many local landscaping companies to use on your pathways. On flat areas less prone to runoff, a regular undyed mulch or crushed stone would also cover soil to save the lake.
▲ To Table of Contents • Print Article • To Other Links ▼
All Ponds Doing Great
Well, we are enjoying some beautiful weather aren't we?! The way life ought to be! If you don't believe it, just think back seven months and all of that white stuff on the ground!
As of this writing, we have 1.65″ of rain forecasted for the next 10 days which, if it occurs while we're all catching some shut-eye, will be welcomed. Great Pond is essentially right at full pond or to be exact, 0.6″ above full pond with Gate 1 opened just 3″ for the fisherman. In other words, Great Pond is just barely breaking over the spillway at the Village dam or right at full pond. Long Pond is 3.36″ above full pond with both gates still completely closed. Salmon/McGrath remains at 1/10″ below full with its one gate still opened the mandated 1 turn or 1 cfs. All of our ponds are doing great.
Your eleven dedicated and volunteer representatives on the Inter-local Belgrade Area Dams Committee continue to vigilantly monitor and adjust all of our water levels with daily reports and monthly meetings to ensure these optimum water levels. And we are still doing our rain dances — which incidentally, isn't pretty but apparently effective! We cannot afford another summer of low water levels like last summer.
Enjoy the family, your vacation, and this beautiful weather!
▲ To Table of Contents • Print Article • To Other Links ▼
The Week Maine Burned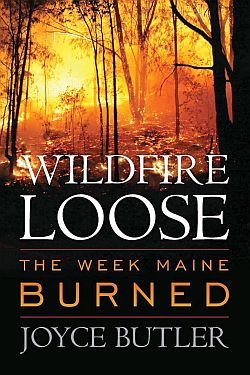 Everyone around the globe was updated and informed about the famous Bar Harbor fire, but few heard the rest of the story: towns in southern Maine completely devoured by fast flames like the recent Paradise, CA disaster and southern coastal resorts destroyed so very dreadfully fast that people fled for their lives to the freezing ocean and wet sands on the beaches.
What a story, but who remembers that extra wet spring like what we just had in 2019, followed by drought conditions in August-October? Wildfire Loose: The Week Maine Burned, non-fiction by Joyce Butler was published thirty years after the disaster in intricate detail. Facts like the lady who was baking blueberry muffins when she smelled smoke and heard "the freight train sound" of the descending firestorm through the tops of trees.
The Stars are Fire is a novel by Anita Shreve that shares the family turmoil on the southern coast of Maine during the drought and tragic losses of homes right beside the ocean. I am particularly pleased that this lesser known part of Maine history is explored in this novel rather than the very well known Bar Harbor loss.
Our Belgrade Library book discussion went on and on from 11 a.m. to 1 p.m. about these two books on the same subject: the week that Maine burned. We had so many revelations in the novel as well as the documentary type history. That only 15 people lost their lives throughout this horror was quickly pointed out by Claudia. What a miracle, but, of course, many, many injuries, undocumented. The novel dealt with fire injury. A husband who was thought to be dead or missing returned home months after a long coma released him from his misery with scarred face and crippling conditions.
Cece commented on the world renowned lab in Bar Harbor. Who knew of this gem of science for cancer research and the mice lost for further experimentation? Science labs around the globe had shared with Bar Harbor, so the basic research was not lost, thank goodness. Clean up by shoveling mice remains out the broken windows made the volume of loss even more concrete and real in its terrible vastness.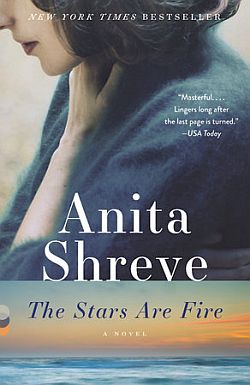 Happy endings for novels was pitched by Martha, another one (not me!), who teaches college age students. The novel has a twist at the end that I just found troubling, but maybe you, dear reader, prefer happy endings. Music is such an important part of this story and I simply was enraptured by the writing of novelist Anita Shreve about expressive piano playing and also buying a record player for the family to enjoy music in their home. Sounds like our home, full of music.
The very amazing facts of so many volunteers around Maine that you saw very few real fire fighters in their protective garb. Self reliance of every community and all the college and university age students who were right out there to help. Kay commented on the Bowdoin students who fought the fire so very long on one side of Route 1, that they were found the next morning, exhausted and sleeping on the other side of the road where they had BUILT fires to keep warm!
Barbara and others helped select these two books for us this summer and Loyce brought her huge book of Maine maps to help locate the communities and ponds in the history. The China fire was the closest to Belgrade, maybe even one of the notorious "set fires." My first edition of Wildfire Loose had a terrific map in the front of the southern fires and up the coast to Kennebunk and the back flap of my library book had the Bar Harbor fire locations.
It was clear to me by these two maps that Bar Harbor lost a third of the historic resort to this calamity while the more complete devastation was in the south with over seven towns completely destroyed. Everything gone, from farmhouses and barns and animals to main street Victorian homes and businesses. One town destroyed bragged later that they only stopped mail delivery for one day! How did these resilient people do it?
As Joyce Butler so carefully documents, everyone pitched in, everyone. While the men all went to volunteer as firefighters, the women were busily making sandwich after sandwich after bowl of stew or chowder for the exhausted men. Some women even delivered coffee and food to firefighters trapped inside of dangerous smoke filled, windy areas. The wind played such a role in the fire's movements and the dryness of ground level "slash" created a torrential wind from within the devouring flames.
I found the definition of slash in the helpful vocabulary list at the end of the history. With high winds from a storm not too long before 1947, the woods were full of fallen branches and trees. Drought brought all this slash to dangerous, known levels. New Hampshire closed its woods to hunters before Maine did, and some fires still occurred in New Hampshire. Poverty Pond, now on the map as Silver Pond, experienced complete fire damage in Maine not far from the N.H. border…three of us at book group hunted for this one on the map! Our next book for August is The Library Book, another fire story about the Los Angeles Public Library's burning in 1986.
I also recommend The Man from Maine by Edward Bok who tells very descriptively about Cyrus Curtis as a young lad experiencing the Portland fire of 1866. Curtis later developed The Ladies Home Journal which found its way into almost every home in the USA. Edward Bok's Pulitzer was written later, The Americanization of Edward Bok, a great biographical read about a Dutch boy who became a prosperous American. He also knew how to write!
I found these wonderful Bok books at the Waterville Library, such a beauty of an old building restored and also a prize-winning public library just across the street from the laundromat.
(Augusta finally became fire control central pretty much after the citizens of Maine brought it under control that horrid week. Out-of-state equipment and help from everywhere starting pouring in, so our capital city coordinated all the generosity of Americans everywhere.)
▲ To Table of Contents • Print Article • To Other Links ▼
Geology Hike Rocks!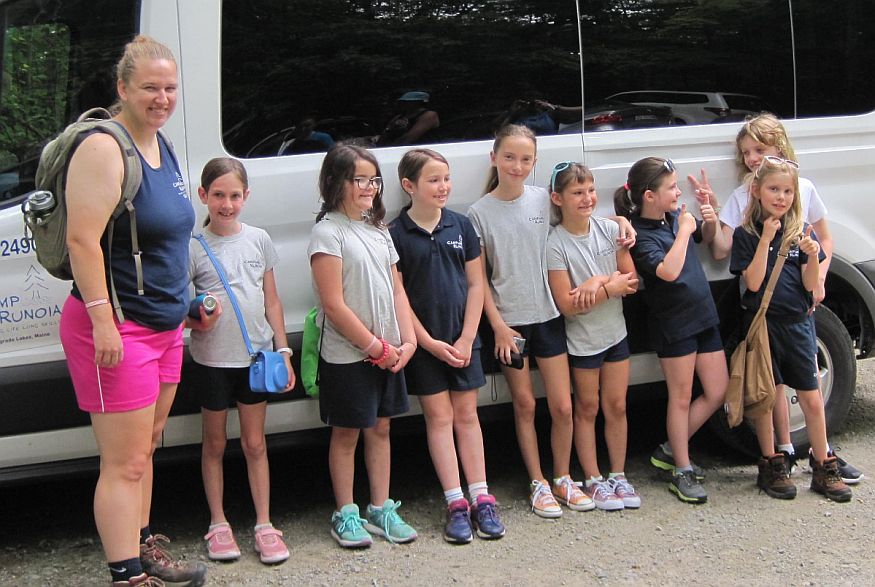 It's hard to believe this is already the seventh column of the summer! I couldn't believe it when my morning paper had a "Back to School" flyer in it already! I don't think the kids are reading the paper, though. They are too busy having fun in and around the water and hiking the nearby trails. As the air has warmed to the high 80s and the water into the upper 70s, more and more people are swimming, sailing, and tubing.
The trout fishing is slowing down, but the bass and pike are continuing to feed on schools of alewives. The bass are also hitting big Hex mayflies that are hatching in the evening and early morning on several of our lakes, including Great Pond, Long Pond, and Messalonskee Lake. I have had good luck with spotting feeding fish on the surface early in the morning and casting big flies or poppers to them. A three-pound smallie on a 6-wt flyrod is a lot of fun. The early morning is also a great time to watch the new loon chicks learning to feed themselves.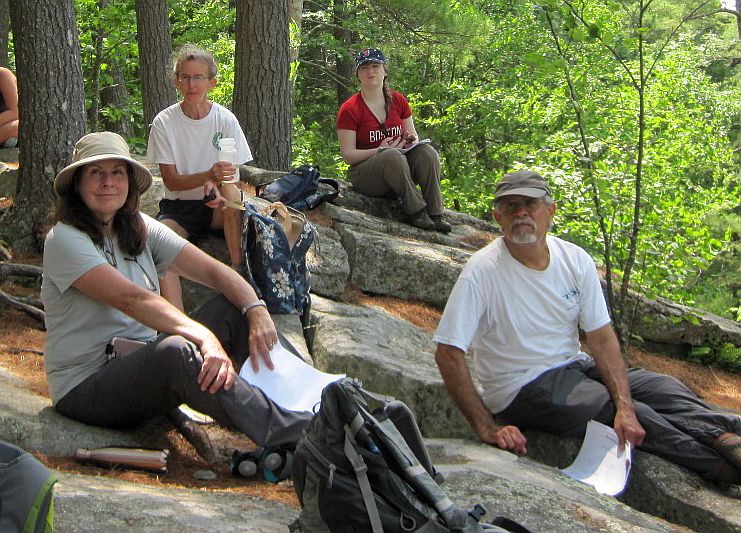 Last week I talked a bit about the summer camps in the area and this week I met a lot of campers on the trails, including a group of excited Camp Runoia "first years" getting ready to hike The Mountain on their second day of camp. Also at The Mountain, I helped fellow 7-Lakes Alliance board member Mel Croft lead a geology hike to help people learn how plate tectonics and the glaciers formed the landscape and then lichens, mosses, and salmon transformed the bare rocks into a complex, forested community. We had 25 eager hikers that climbed up to the Long Pond overlook and ate lunch while Mel talked about 200 million years of geological history and glaciers. The hike was followed by a short field trip to a sand pit near the Belgrade Town Office that used to be a marine delta and a visit to the Foster Point Road esker. I thing everyone learned something and had a great time.
This area offers some great outdoor recreation, whether you like to hike, bike, birdwatch, fish, sail, or paddle a canoe or kayak. Pick up a map of the local trails at Day's Store or from the 7 Lakes Alliance at the Maine Lakes Resource Center. Also, please check the 7-LA Facebook page for details on some interesting events scheduled this summer. Check the web site and keep an eye on the sign out front. And make sure you take a kid along on your next outdoor adventure.
Print Article • To Table of Contents
◀— Previous • News Archives • Business Directory • About Us • Home • Next —▶
©2019 by Summertime in the Belgrades. All rights reserved.