Loons Are Nesting Later
by Dick Greenan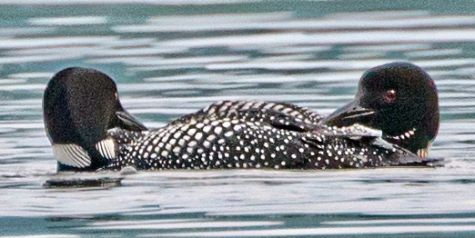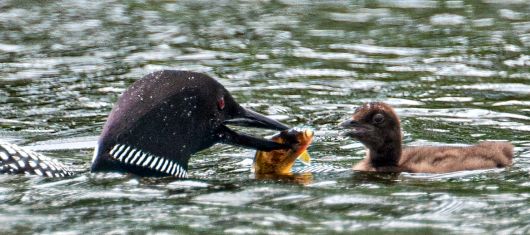 We had our bi-weekly loon survey on Great Pond with loon expert and consultant, Lee Attix just two days ago and the news is GOOD for a change! Great Pond presently has seven chicks with, as far as we know, one nest still to produce. Last year, the 8500-acre Great Pond hatched only one chick, which fortunately fledged and flew off to warmer parts for the winter. A very dismal and concerning year for our loon population!
Yesterday, we conducted our Long Pond survey with just two chicks accounted for — we did lose one already to unknown causes — and with a potential for another three. Despite an early ice-out by three weeks, our nesting season is for the most part three weeks late which doesn't make any sense. Our loons should be nesting earlier, not later! This concern is also shared by our neighbors throughout the northeast.
On Lee's off week, both Great and Long Ponds are surveyed by our dedicated Volunteer force so we are able to develop a very pro-active and comprehensive assessment of the health and productivity of our loon population. Our Loon Volunteers will also be participating in Audubon of Maine's Annual Loon Count, which is different in that Audubon counts loons during a 30-minute period, which is informative but still, a relatively limited study.

It was a very rewarding week for obviously our loons, but also for numerous bald eagles and osprey with their offspring, a pair of beautifully dappled fawns, and a mink quietly sunning himself off Oak Island. Our Belgrade Lakes are indeed, a very special place!
We are fortunate to, once again, have our very own Lee Attix presenting the latest data on Belgrade's Loon population at this year's Belgrade Lakes Association Annual Meeting on August 8th from 1-4 p.m. at the Belgrade Golf Course. You can register via the below email.
Dick Greenan is chairman of the Belgrade Lakes Association's Loon Preservation Project. If you have a particular question regarding our Belgrade loon population, please email your inquiry to info@blamaine.org, and he will try to answer you either in this column or via email.
<— Previous Article • Summaries • Next Article —>
©2021 by Summertime in the Belgrades. All rights reserved.