Crepuscular Fishing
by Pete Kallin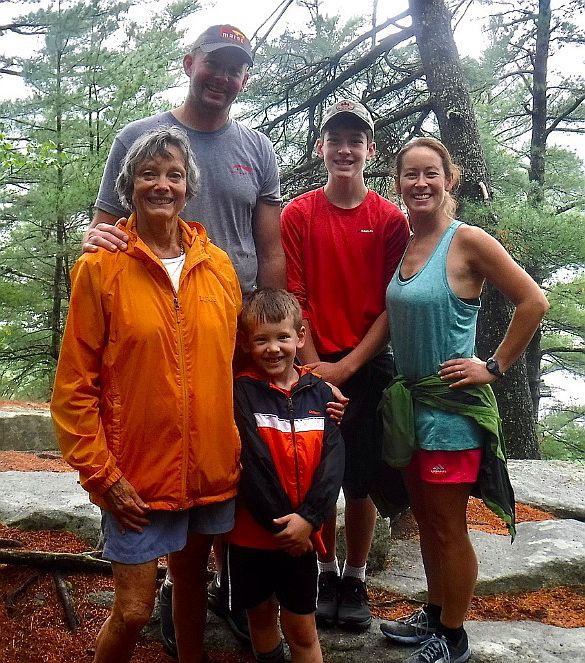 So far this has been a cool and windy transition to summer, with some occasional very hot days. The fishing has continued to be productive, especially early in the morning and late in the evening. I love fishing these crepuscular periods when the lake is typically dead calm, and it is easy to spot fish feeding on or near the surface.
Surface-feeding fish often indicate an insect hatch taking place with some fish (often trout or small bass) sucking the fish off the surface. Often larger fish will be just below the smaller fish at the surface, eating the smaller fish or the nymphs (insect larvae) just below the surface waiting to emerge.
I often keep my 6-wt flyrod rigged with a big brown, bead-headed, woolly bugger that I can cast into the middle of the action. (For my non-fly-fishing readers, the woolly bugger is a big ugly fly that doesn't really look like anything in particular but looks enough like almost everything fish eat so that they can't resist it.)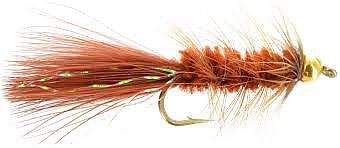 I recently caught and released several nice 16″ rainbows with the woolly bugger that were feeding on the nymphs below the surface. If fished near the bottom with a slightly jerky retrieve, the woolly bugger looks enough like a crayfish to generate strikes from large bass, pike, and trout, as well as other game fish such as white perch.
In our lakes, we also get schools of landlocked alewives disturbing the surface while spawning in relatively shallow (less than about 25′) coves. Often these schools are being chased by larger fish and you will see occasional large splashes as a bass or brown trout picks one off. For this situation I like to use one of my flyrods rigged with a White Zonker, a streamer that nicely mimics the landlocked alewives in the lake. It's usually easy to catch several nice bass or white perch under these conditions.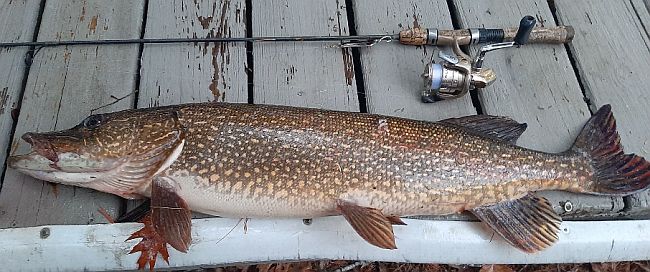 A spinning rod (I prefer an ultralight) rigged with almost anything silver, such as a small jerk bait (such as a Rapala), Mepps spinner, or Weeping Willow spoon is also quite effective. I recently had my ultralight rod and 4-pound test line severely tested by a big pike (32″, over 8 pounds) that hit a small Weeping Willow spoon while chasing alewives. Luckily it was hooked at the tip of the jaw and I managed to land the fish after about a 15- or 20-minute battle, despite not having a wire leader.
By the time this article is published, the water temperatures will be over 70°F in the lakes and the bass will be in the shallows, either sitting on their own beds or chasing the sunfish on theirs. It is a fun time for fly fishermen to catch a lot of fish on streamer flies or surface poppers, especially at dawn or dusk. Spinning gear also works well with surface lures, especially at dusk. It can be a great time to teach a youngster how to fish because the action is fast.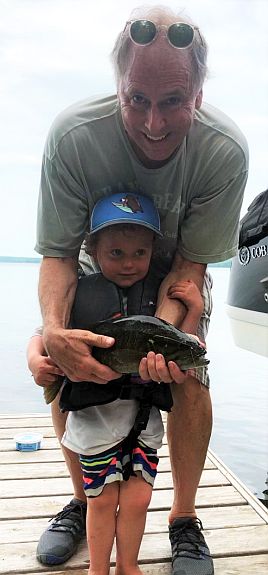 Recently, Scott Finlay was teaching his two-year old grandson Kade the joys of fishing from the end of his dock in Great Pond. On his second cast (EVER), Kade hooked a nice smallmouth bass that he reeled in with a bit of help from his grandfather. Kade is now thoroughly "hooked on fishing" and is constantly talking about going fishing again.
Every spring, I act as a Fish Friends mentor for the Atlantic Salmon Federation. I work with several schools (and the 7-Lakes Alliance) to help students raise Atlantic salmon fry in refrigerated tanks in the classroom from eggs we receive from the National Hatchery at Green Lake in Ellsworth. The students study salmon life cycles and migrations and the fish are eventually stocked into the Bond Brook in Augusta to help restore this federally-listed endangered species.
This year was a difficult year with some of the schools teaching virtually, some hybrid, and some in person. 7-Lakes Alliance CEO, Laura Rose Day, Amy Soper (7-Lakes staff), and I worked with Dr. Chris Maloney's science classes from the Maine Arts Academy to stock the fry after carefully equilibrating the temperatures and pH between the cooler and the brook. This is a great program and gets young people (and their parents) excited about these critically important fish. Maine is the only U.S. State with reproducing native Atlantic salmon and is trying to restore these once thriving fisheries.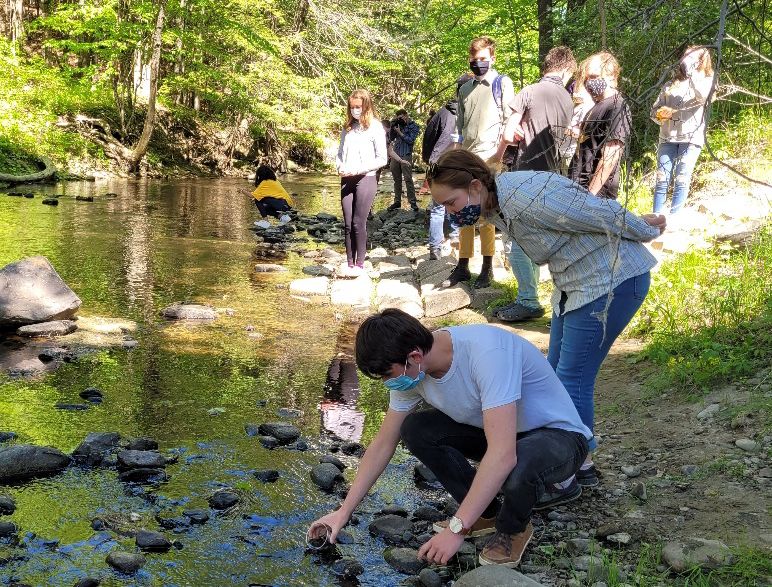 As COVID-19 travel restrictions are being relaxed, more visitors are able to come to the area. Among recent visitors are Dick Greenan's son, Jason, and his family, including grandsons Ben (15) and Sean (9). The family got in a lot of relaxing recreation including kayaking, water skiing, fishing, and hiking.
The 7 Lakes Alliance is now holding in-person events this month that may be of interest. Check the 7LA website site for details. I encourage everyone to take advantage of the wealth of recreational opportunities this area offers. Do like they used to in "the good old days" and take a kid fishing, or on a hike, or paddling in a canoe. It's how memories are made. Or take a parent, so they can become a kid again.
<— Previous Article • Summaries • Next Issue —>
©2021 by Summertime in the Belgrades. All rights reserved.